Fellow:Edward Drabold
Jump to navigation
Jump to search
Edward Drabold is a University Innovation Fellow and undergraduate in the Honors Tutorial College (HTC) Environmental Studies program at Ohio University. His focus lies particularly in the multidisciplinary field of microalgae research and how it can be applied to solve environmental challenges. Drabold has lived in Athens, Ohio most of his life. He lived in Cambridge, England for two separated years. Drabold has been passionate about the environment since he was in elementary school. Frequently he would participate in Science Fair projects – he participated in the Ohio State Science Fair six times before going to college.
At Ohio University, Drabold researches at the Institute for Sustainable Energy and the Environment (ISEE). He began research as a Junior in High School as part of science fair projects. Since then he has worked for David Bayless, Loehr Professor of Mechanical Engineering on research related to microalgae carbon capture. Ultimately, his research led him to a position as a Research Contractor for a pilot microalgae carbon capture project at Honda, R&D Americas the summer after his Freshman year. A guiding ethos of Drabold is that a multidisciplinary set of skills are required to solve the environmental challenges of the future. 
In his spare time, he enjoys walking his fluffy 100 pound yellow lab.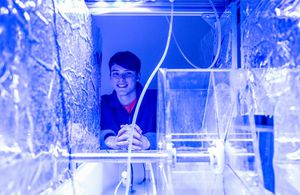 Related Links
Ohio University Student Priorities
University Innovation Fellows
Fall 2018
Fall 2017
Spring 2016
Spring 2015
Spring 2014
---
---