School:Ohio University
Jump to navigation
Jump to search

Established in 1804, Ohio University is a public university located in Athens, Ohio. The campus is home to nearly 23,000 undergraduate, graduate, and medical students. The university is ranked number one nationally in overall student satisfaction. In 2015, the Center for World University Ratings ranked Ohio University in the top 3% of high education institutions globally and the university has received a Carnegie Classification for high activity research universities. Ohio University has many prestigious alumni among them are Sir Venkatraman Ramakrishnan, recipient of the 2009 Nobel Prize in Chemistry and president of the Royal Society; George Voinovich, former Ohio governor and U.S. senator for Ohio and Nancy Cartwright, the voice of Bart Simpson in the Simpsons T.V. series.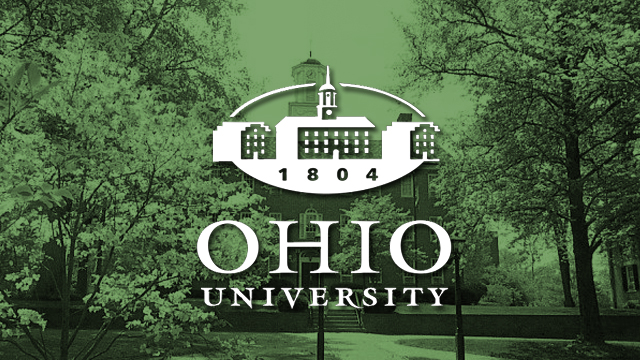 Student Innovation and Entrepreneurship
At Ohio University, students are encouraged to embrace innovation and entrepreneurship in courses, extracurricular clubs, competitions, and other specialized programs.
Academic Pathways:



Entrepreneurship Major: Graduate with the confidence to start a new entrepreneurial project.
Entrepreneurship Certificate:

Graduate

with real-world experiences that students gain through taking a variety of classes across different colleges. 
Business Venturing Concentration, MBA: Offers those who are pursuing their MBA at OHIO the opportunity to focus in on new business creation and development. 
Environmental Sustainability Graduate Certificate: Certificate program offered to all graduate-level students at OHIO who are not already pursuing a masters degree in environmental studies. 
Classes/Course Programs:
Designing to Make a Difference: Senior capstone project for engineering undergraduate students.
Integrated Business Cluster: Be able to solve real-world business problems as a team.
The Bobcat Launchpad: The Bobcat Launchpad will provide real-world, hands-on learning on what it's like to actually start a company.
Sustainable Construction: A course focused on challenging civil engineering students at OHIO to problem solve field-specific challenges with a sustainability mindset. 

Numerous classes that incorporate innovation and entrepreneurship into their curriculum (i.e. Business in Aviation, Entrepreneurial Sales, Legal Aspects of Entrepreneurship)
Student Organizations



Ohio University Entrepreneurs:

 As an Ohio University Entrepreneurs, students are taught the skills to become leaders and entrepreneurs through networking, guest speakers, and workshops. Members are exposed to resources across campus to help them build a business of their own.

Enactus:

A national non

profit organization with a goal of improving communities through social entrepreneurship and innovation. Members apply business concepts to teams to develop outreach projects.

Think Design:

An advertising agency that connects Ohio University's student organizations with people who have professional media talents. The organization aims to help place 

students in a position where they can develop their professional skills and expand their portfolio.

Consulting

Fellows: 

Consulting

Fellowsgive future leaders tools to build analytical skills and business knowledge, as well as a complementary set of so-called soft skills which are becoming critical in today's business environment.

Amplified Communication: Amplified communication is a student organization that focuses on the value 'students helping students". This organization works with students and their brands to connect them to art, entertainment, entrepreneurship, and lifestyle.
yOUdesign: yOUdesign is an interdisciplinary student organization that strives to empower students to create innovative and sustainable solutions to problems using design thinking. 
Competitions:
'Ohio Creativity and I'nnovation Challenge: Challenges students to propose soluations to on-campus issues with a cash prize.
Business Pitch Competition: Enables young, aspiring entrepreneurs to practice developing, researching, and articulating their ideas in a fast-paced, fun forum. Participants learn how to effectively pitch an idea before judges

,

demonstrate why their idea is going to

work,

and to do so in a short amount of time.

Scripps Innovation Challenge:

A university-wide student competition that gives Bobcats the opportunity to create innovative solutions to real-world media and communication problems. The goal of the competition is to harness the creativity of Ohio University students in order to develop new and innovative service, product or process solutions as the basis for a new startup business.

Startup Weekend:

Anyone is welcome to pitch their startup idea and receive feedback from their peers. Teams form around the

top ideas then have the weekend for business model creation, coding, designing, and market validation. The weekend ends with presentations in front of local entrepreneurial leaders with another opportunity for critical feedback.

Student Research & Creative Activity

Expo

:

Over

800

students from 56 different departments and schools showcase their original research at Ohio University's biggest-ever Research and Creative Activity Expo with live performances, presentations and interactive demonstrations.

Student Expo:

Once a year, undergraduate and graduate students are invited to present their research and receive recognition.

Eco Challenge:

Eco challenge partners students across disciplines to create sustainability solutions for Ohio University's campus. Projects are evaluated based on the triple bottom line, which seeks solutions that consider the impact on people, planet, and profit.

Human Powered Vehicle Challenge:

The Human Powered Vehicle Challenge, through the American Society of Mechanical Engineers, provides opportunities for students to design and build highly engineered vehicles and test them against one another through sprint and endurance races. They demonstrate how sound engineering design can create and improve sustainable and practical transportation alternatives.
Seminars and Events:



Ohio Business of Games Summit: Ohio University held an

all day

event about the business of gaming for the first time in 2017. This event drew in over 500 students and explored a variety of topics related to the industry. The event was put together by the Center of

Entpreneurship

and the Scripps College of Communication.

Center of Entrepreneurship Socials: The Center

of

Entrepreneurship hosts socials in the spring and fall to inform students about what entrepreneurship is and how to add it into your

acedmeic

profile. These socials typically have food and

refreshments,

and draw a range of students. Students who have never heard of the clubs or programs can connect with students who are in them

Science Cafes: Every other Wednesday the Front Room coffee house in Baker Center hosts a Science Cafe. A speaker (typically a faculty member from the university) will come in and talk about their topic of choice. Although not entirely entrepreneurial in nature, these cafes can lead to sparking interest in individuals which may lead to something more. 
One Day Workshops: Periodically, students at Ohio University can find a free workshop to attend. Recently, Ohio University Entrepreneurs (see above) hosted a design thinking workshop. The organization brought in Gary Coombs (a professor here at OU) to talk about and demonstrate design thinking. There is another workshop coming up, unrelated to OUE, about

film making

that is also free to attend 
Media:
Center for

Entreprenuership

Twitter: with around 400

follows,

the CoE twitter is an avenue to notify students of upcoming events and other news the center may have. 

Perspectives Magezine: The Ohio University Research department publishes Persepctives Magezine. Each edition covers anything innovative and entrepreneurial. This helps students get inspired and informed.
Faculty Innovation and Entrepreneurship
Ohio University's faculty is an intrinsically motivated and highly innovative groupof professionals. Faculty members across colleges have worked on research that has helped generate over eight and a half million dollars in licensing revenue. This earned Ohio Univesrity the title of "most revenue generating university in Ohio" in 2011. Most of the revenue was generated by the Ohio University's license to the Pfizer corporation for a growth hormone receptor antagonist. This technology is used as a therapeutic for patients with acromegaly, a form of gigantism.  
Along with the technologies that Ohio University faculty have worked on, faculty members also engage the innovative culture on campus. Over thepastyear,facultyand staff at Ohio University have participated in a forum called the Innovation Strategy Interim Report.The goal of the forum is to advance forward-looking strategies for collaborative research and innovative academic programs that benefit OHIO students andfaculty,whileengaging with communities regionally and globally.  
Faculty also encourage students to innovate. Whether through the Center for Entrepreneurship, or extra-curricular activities like Startup Weekend or Ohio University Entrepreneurs, students are connected with resources and individuals that can help them take their idea to the next level. Resources on campus are open to all entrepreneurs, including students. The Innovation Center, for example, leases space for startups, even those that are student-led. Furthermore,TechGrowth Ohio has the resourecs to help students commericalize their technology or help them seek investments. 
University Technology Transfer Function
Ohio University's technology transfer office works for faculty to provide patent protection, market evaluation, and transfer of intellectual property to businesses. The technology transfer office has helped OHIO to achieve a number one ranking in Ohio for research and licensing revenue. OHIO also ranked number four nationally for return on investment in research.
OHIO may license a technology to an established business, or the faculty or staff inventor may create a startup company to do this. The Technology Transfer Office and its partners in the entrepreneurial ecosystem provide support to university inventors in the following ways:
Executives-in-Residence from the TechGROWTH Ohio program offer business coaching and support, including developing a business plan, analyzing the market, company formation, hiring employees, and managing legal issues.
The Innovation Center offers flexible office space and scientific laboratory space and equipment for startup businesses. Services also include business mentoring and networking opportunities. The LIGHTS program within the Innovation Center offers start up resources to individuals in the surrounding 28 counties.
Additionally, OhioMakes is a partnership with Ohio University CoLab, LIGHTS and ReUse Industries' MakerSpace. This program offers OU students full access to MakerSpace, mentoring, funding, and trainings in various technical skills.
The entrepreneurial ecosystem offers access to funding opportunities, such as growth grants and pre-seed investment from TechGROWTH Ohio, as well as connections to regional venture capital firms and other sources of financial support.
http://www.ohio.edu/research/tto/startup-resources.cfm
University-Industry Collaboration
Ohio University's innovation center is partnered with multiple businesses and organizations:
JobsOhio: a private, non-profit corporation designed to drive job creation and new capital investment in Ohio through business attraction, retention, and expansion efforts.
Ohio Department of Development: Agency with a goal of creating jobs and building strong communities, while ensuring accountability and transparency of taxpayer money and exceptional customer service.
USDA Rural Development: An organization committed to helping improve the economy and quality of life in rural America.  
East Central Ohio Tech Angel Fund: A resource for entrepreneurs in the region to find seed funding.
To see additional resources and collaborative partners please click the following link.
http://www.ohio.edu/research/innovation/partners.cfm
Regional and Local Economic Development Efforts
Ohio University's Innovation Center is housed in a 36,000 square foot facility and aims to provide business incubation to better the economy of Athens and surrounding regions. Clients of the research center have access to office space, conference rooms, shared lab space, executives-in-residence, workshops, wellness, company discounts, company promotions, and extensive networking opportunities.
Athenian Venture Partners invests in technology and information technology firms. This firm is renowned for its high returns on investment.
The East Central Ohio Tech Angel Fund focuses on opportunities in east-central and southeast Ohio. This fund consists of 27 investors and is one of the largest rurally focused investment funds in the United States.
The Ohio Small Business Development Center at Ohio University provides free business consulting to small businesses - new and existing - in Athens, Hocking, Meigs, and Perry Counties. The Ohio SBDC has been hosted at Ohio University since 1988. This arrangement has allowed the Ohio SBDC to leverage the relationship with the university to gain access to resources that would otherwise not be available to the local entrepreneur.
TechGROWTH delivers intensive operational assistance through "Executives in Residence" who validate opportunities and prepare companies for investment.  In addition, TechGROWTH provides small, competitive "Growth Funding" to qualifying companies to overcome targeted commercialization obstacles, pre-seed investments providing "first-in" funding for technology startups, and access to a regional network of angel investors for "follow-on" capital needs as well as access to venture capital markets to fund the "scale up" of production, sales, and marketing. TechGROWTH is funded by an Ohio Third Frontier grant with support from Ohio University and private capital.  TechGROWTH's impact shows a leverage ratio of over $9 of follow-on resources acquired for client companies for every $1 of state money invested, achieving over $69.7 million flowing into the region over its first four years.
Ohio University's Landscape Canvas:
https://docs.google.com/spreadsheets/d/1qEplzbnOau3vgG0raWwhsfyvdH0gKVeFvZwfKrjcwWU/edit?usp=sharing
SOURCE: http://www.ohio.edu/research/
Related Links
Ohio University Student Priorities
University Innovation Fellows
Fall 2019
Fall 2017
Spring 2016
Spring 2015
Spring 2014
---
---