Fellow:Dinesh Lakkakula
Jump to navigation
Jump to search
School : Sri Venkateswara Children's High School
Email : Lakkakuladinu@gmail.com
Phone : (+91) 9390008926
Also called as : Dinu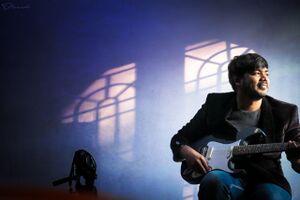 Dinu is an undergraduate from Sri Venkateswara College Of Engineering passed out in the year 2019.He is enthusiastic & creative . He has leadership qualities within him. He became an UIF member to get into the networks and improve his entreprenual skills.
           He is intrested in computers which is the reason he is in the Computer Science & Engineering stream out of his passion. He is intrested in coding and has command over C,Java,Python,DBMS & HTML. He is a tech geek.His dream is to make his startup happen and he is working on it . He loves success & works hard to make it happen. 
             Dinu is an athiest,he believes in himself and he believes Humanity,He wants to be social responsible and want to see a clean world with no sufferings, he became humanist after seeing many pathetic situations around the world.
              His other intrests are Photography, he is a freelance photographer who can click a classic urban style pictures.He loves to cook too .
He believes that " Darkness cannot drive Darkness only Light can do that"
SOCIAL SITES:
Facebook: Dinu
Instagram: _Dinu
Linkedin : Dinesh Lakkakula
Related Links:
Team Members:
Spring- 2018:
Fall- 2017:
---
---