Fellow:Dillon Mahr
Jump to navigation
Jump to search
Dillon Mahr is currently a University Innovation Fellow from Ohio University in Athens, Ohio. Dillon is a junior majoring in Computer Engineering. He is originally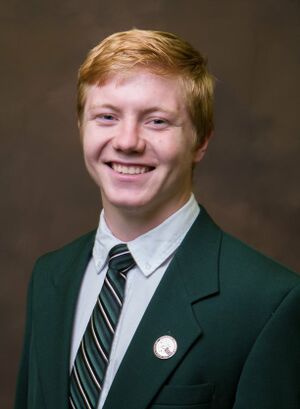 from Rutland, Ohio before moving to the Athens Campus. He was exposed to University Innovations fellows by a graduated fellow.
Currently, Dillon is works as a research assistant in Ohio University's Avionics Lab. He is President of OU Robotics, President of BITS (Internal bicycle transportation system), Enginnering ambassador, and a Cutler Scholar. His involvement with many different student organizations on campus allows him reach a multitude of different students to further help create the change on campus.
Dillon is very passionate about helping young students find their passions and then connecting them to resources to make their ideas into reality. He encourages students to look for ways to apply their major to activities they love in unconventional ways.  
Dillon is very passionate about community service. He tries to maximize the resources available on his campus and is always finding ways to use technology to further sustainability. In his free time he likes to be in the outdoors. If you have any cool ideas that you would like to share, you can reach him at dm453216@.edu.
Related Links
Ohio University Student Priorities
University Innovation Fellows Fall 2019
Fall 2017
Spring 2016
Spring 2015
Spring 2014
---
---