Fellow:Claire McGee
Jump to navigation
Jump to search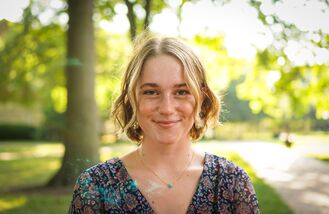 Claire McGee is a University Innovation Fellow and an undergraduate at Ohio University double majoring in Public Health and Spanish with a minor in Environmental Health. She is interested in maternal and reproductive health, and how these things can overlap with the world of innovation, design and entrepreneurship.
Claire is from Athens, Ohio and spends her breaks traveling and working around the world. She just recently returned from a summer internship working for a Danish maternal health non-profit in Bogotá, Colombia. Claire is also a Cutler Scholar at Ohio University, and is the Publisher of the largest student-run print magazine publication, Backdrop Magazine. In her free time, she works at the local running store and likes to be outside. She also enjoys playing guitar, singing, and cooking meals for her family and friends.
Claire believes that every student at Ohio University has the ability to think creatively and create real change on campus and in the world beyond graduation. She thinks that it is paramount to equip all students, regardless of major or discipline, with the tools to innovate and test their ideas. She thinks that one of the most important things missing from OU's campus is the exposure to innovation and entrepreneurship. Through the UIF program, Claire hopes to earn the connections and skills to bring together her undergraduate classmates and create a campus climate that supports innovation and creativity as a means to improve Ohio University.
Related Links
Ohio University Student Priorities
University Innovation Fellows Fall 2019
Fall 2017
Spring 2016
Spring 2015
Spring 2014
---
---