Fellow:Chitvan Kaur Sahni
Jump to navigation
Jump to search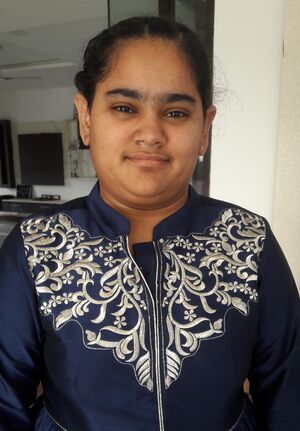 Serving as UIF Since: Fall 2019.
School: Godavari Institute of Engineering and Technology. What she does now: Persuing her second year of B.Tech in electronics and communications Undergoing training as a university innovation fellow for fall 2019 cohort.
Contact her about:Debates, Group Discussions, Anchoring, Hosting,Shows, Relaxing music.
Email: chitvankaursahni@gmail.com
Phone: +91 9949288843
Chitvan Kaur Sahni is persuing her second year of B.Tech in Electronics and Communication
Chitvan is a small girl with big dreams to ace the world. She is a team player radiating positive vibes to the people all around her. She is a lateral thinker brimming with confidence. She sees to it that everyone around her is cheerful. She motivates and is ready to help those in need. She believes that "Whatever you want exists". Don't settle until you get it.
She aspires to make a career in cyber security for artificial intelligence because she foresees the hazards that are camoflaged beneath the benefits of automation or artificial intelligence.
Written by: Chitvan Kaur Sahni
Related Links :-
STUDENT CONTRIBUTORS
Fall-2019:
Fall-2018:
Spring-2018:
Yaswanth Balaramaraju Manthena
Spring-2017:
---
---