Fellow:Benson Chien
Jump to navigation
Jump to search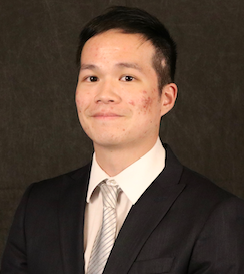 Benson is a University Innovations Fellow from Taiwan.
Coming from overseas and studying in Integrated Science and Technology major and Robotics minor as an international student at James Madison University was one of the biggest achievements in his student career experience. Curiosity and the motivation of breaking the rules drove him since young age. Thinking outside the box and perseverance are his motto.
Tailored his concentration in Integrated Science and Technology as Machine Learning and Computer in Network Security was one of the examples of his crazy idea of incorporate data science study with computer networking technique.
Benson is not afraid of learning new technologies or mess with new tools. He participated in the Autonomous Vehicles X-Lab Class, which provided a valuable research and integration of emerging technologies to aid a retirement community by increasing autonomous, independent, and safe travels among residents. With the experience of Bluestone Hackathon in Spring 2019 to solve public transportation issue, he took a next step of his smart parking application idea to incorporate with the machine learning and autonomous vehicle project. Both this project and hackathon gave him a vision that the best way to drive a project to success is to work with interdisciplinarity students, and it became one of the motivations that push him to pursue to be part of the University Innovation Fellows program. 
Benson's senior capstone in his field of study is to develop the technology of mesh-network with small size satellite (CubeSat). This was the pioneer project in Integrated Science and Technology Department to develop the technology in order to test the possibility of creating and maintaining the mesh network in Lower Earth Orbit.
During the training to become the member of University Innovation Fellows, Benson incorporated the experiences and obstacles he had faced to throughout his college career to propose the idea of offering a class-- to have students with entrepreneurial ideas a stage to come up with a solution to the real world problem and design the prototype. He wanted students on campus to have a chance to propose to faculty in James Madison University something that could potentially be the project sponsor/advisor to mentor the team toward the execution of the project. He believes that this would be a great experience for students around campus get to work with students from multidisciplinary background to learn new technique in a non-traditional style of course.
Related Pages:
James Madison University Student Priorities
---
---