Fellow:Babitha Padiri
Jump to navigation
Jump to search
Determination, Start any thing with Determination and Desire to achieve anything.....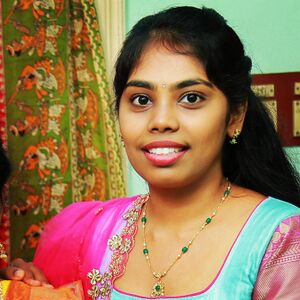 Babitha Padiri Graduated as a computer science engineer from Siddharth institute of engineering technology (SIETK).  Initially, she started her education in a very common way as every children starts then she started realizing not to stick to a Box .so she started her own way in learning things differently. Currently she is a passionate individual with a primary skill in Python programming. Currently, she is working as a Python Automation Engineer at WELLS FARGO ,Bengaluru., where she have the opportunity to apply her expertise in Python to solve complex problems and contribute to the company's success.
In addition to her work at Wells Fargo, she is also a University Innovation Fellow at Stanford University. This role allows/ed her to engage with fellow students, faculty, and administrators to foster an innovative and entrepreneurial ecosystem on campus. she is very much excited to be part of this program and contribute to creating a culture of innovation and collaboration within the university community. Moreover, she have had the privilege of conducting several design thinking workshops in her primary school, Prashanth English Medium High School. These workshops aim to cultivate an innovative mindset among young children, empowering them to embrace the culture of innovation and apply it in their everyday lives. It brings her immense joy to witness their creativity and see them grow as young innovators
In 2018, she had the incredible opportunity to attend the prestigious Google I/O event. It was an exhilarating experience where she had the chance to immerse herself in the latest advancements in technology, network with industry professionals, and gain valuable insights into the world of software development. Later she started Seeking for a challenging role to work in a professional environment that provides opportunity to learn key technologies to be an effective team player in developing, managing projects and to be an asset for the organization by delivering to the best of her capabilities and to reach the platform of competing technology of today's world and make a worthy innovation.
Originally hailing from the holy city of Tirupati, India. she have always been inspired by the rich culture and heritage of her hometown. It has instilled in her a sense of gratitude and spirituality, which she carries with her in personal and professional life.
As a lifelong learner, she is constantly seeking new knowledge and growth. Python is not just a skill for her ; it is a passion. she enjoys taking on coding challenges, staying up-to-date with emerging trends, and exploring innovative solutions to complex problems. she is thrilled to be a part of this community and eager to connect with individuals who share a similar enthusiasm for Python, innovation, and personal development.
Let's embark on this journey together, inspire each other, and make a meaningful impact in our respective fields!
Related Links
Siddharth Institute of Engineering and Technology
Siddharth Institute of Engineering and Technology Student Priorities
Fall 2016 University Innovation Fellows
Fall 2017 University Innovation Fellows
---
---