School:Siddharth Institute of Engineering and Technology
Jump to navigation
Jump to search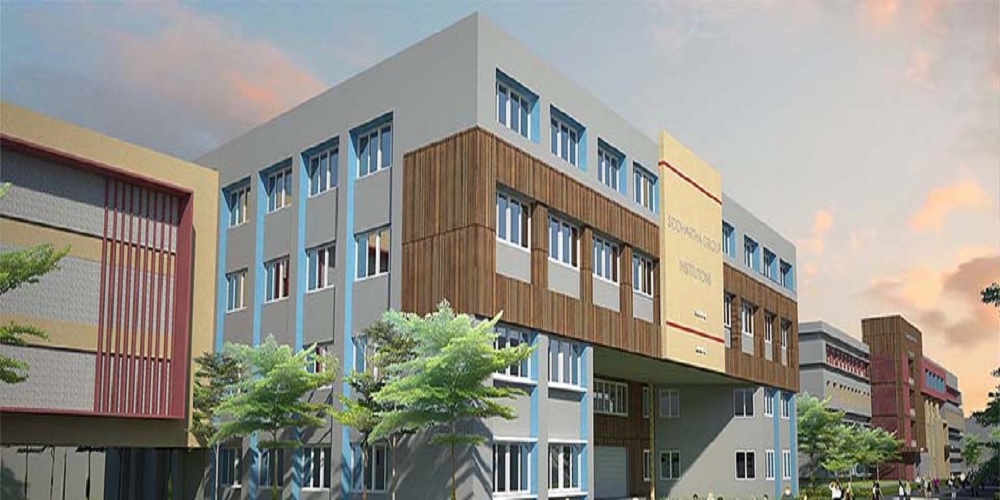 CONTENTS
Overview

Promoting student innovation and entrepreneurship

Encouraging faculty innovation and entrepreneurship

Actively supporting the university technology transfer function

Facilitating university-industry collaboration

Engaging with regional and local economic development efforts

Other links
OVERVIEW: 
                Siddartha institute of science and technology (SISTK)  has started in the year 2008.  The Chairman of the Board, Dr. Ashok Raju Konduru, an educationist and philanthropist, spearheaded the Siddharth Group of Engineering Institutions to become emerging centres for excellence in Engineering in a matter of 10 years. His commitment and determination to make Engineering and Management education available to the rural students around Puttur town reflects in the phenomenal growth of student strength in the last 10 years. His dedication to quality infrastructure and education reflects in the accreditation of three courses (SISTK) by  NAAC "A" Grade.A strong believer of collaboration and cooperation, Dr. Ashok Raju has played a key role in associating with VIT University and Jawahar Knowledge Center, IEG, Government of A.P. for Training and Placements of the students of his institutions. A recipient of "Educationist of the Year Award – 2008" from the WES, New Delhi, Dr. Ashok Raju aims at preparing the student community to meet Global industry needs and played a vital role in signing an MOU with University of Massachusetts Lowell, USA that enables exchange of students and faculty between the two institutions, joint projects, research, etc. He has played a pivotal role in bringing the chapters of "A.P. State Skill Development Corporation" and "Startup Incubation Center" to the institutions which benefit the students immensely. With his immeasurable achievements and untiring efforts to make a difference in the lives of the students, Dr. Ashok Raju has emerged as an iconic personality among thousands of young engineers as well as education circles in the state of Andhra Pradesh and the neighboring states.
The institution, it is believed that "Change is the only constant thing". The infrastructure and equipment are constantly upgraded, providing opportunities to the faculty and the students to enhance their skills continuously. The institutions aim at preparing the students to be great problem solvers, project leaders, communicators, and ethical citizens of a global community. SISTK aims to shape the students as individuals capable of thinking independently, creatively and objectively. The holistic approach in teaching and learning encourages students to indulge in extra-curricular activities to shape them as Leaders of Tomorrow. Placement and Training is the strength of our College. At the end of the course, majority of the students carry home, job offers in reputed Multi-National Companies of their choice. In addition to this we organize seminars, industrial visits, paper contests, group discussions, guest lectures, career guidance etc under its auspices. The campus is characterized by cultural, racial, and gender diversity in the faculty, staff, and student body, supported by practices and programs that embody the ideals of an open and democratic society. Placement and Training is the strength of our College. At the end of the course, majority of the students carry home, job offers in reputed Multi-National Companies of their choice.
Institute Achievements & Recognitions
Established in 2008 & Approved by AICTE, New Delhi

Permanently affiliated to JNTUA, Ananthapuramu
Recognitions
Accredited by NAAC with 'A' grade in 2016

UGC recognition under sections: 2(f) in 2015

Recognized by AP State Government as 'A' grade institution in 2015(14 out of 119 under JNTUA)

ISO 9001 : 2008 certified

Research Centres of Mechanical Engineering sanctioned by JNTUA
Awards
ASSOCHAM Award ,"Best Engineering College" in South India in 2013

"Emerging Engineering College of Excellence " by CSR-GHRDC in 2014

ASSOCHAM Award "Best use of ICT in Education" in 2015

2nd National A.P. Education Summit & Awards 2015 "Excellent Engineering Institute in Rural Area in A.P."
Centre of Excellence
MICROSOFT INNOVATION CENTER Our institution is one among 45 institutions in India to have Microsoft EdVantage Platinum level status and also the Microsoft Innovation Centre (MIC). Students are honing their skills and projects on Microsoft technologies in MC
IBM centre of excellence To enables train to the faculty and students on crush technologies and tools.
INTEL centre for excellence To enables train to the faculty and students on crush technologies and tools.
Skill Development Centre
Our Institute is one among 17 skill development centres launched by Andhra Pradesh government across the state.

Phase – I : Batch of 48 students developed 52 Android Apps

Phase – II: Batch of 50 students 10 projects have been developed

SIEMENS T-SDI by APSSDC, A P State Government

Our Institute is one among 36 T-SDI centres launched by Andhra Pradesh government across the state.

Two Wheeler & Four Wheeler, RAC, Electrical, Electronics & CBT Lab of worth 5 crore

Incubation Centres

Start up Incubation centre

Sanctioned by the A.P. State Government, as a part of Sunrise Start-up programs for students , on Jan 2015.

Student committee has been formed and approved by start up village, Visakhapatnam.

NIDHI – TBI under DST, MHRD(National Initiative for Developing and Harnessing Innovations)

Our Institute is one among 2 NIDHI – TBI in A.P State by DST, MHRD in 2016.

Converting Innovations to start-ups .

10 crore (out of 20 crore) sanctioned by DST.
Student Support Services
Student Mentoring System

Student Grievance Redressal Cell

Internal Complaints Committee

Women Empowerment Cell

Gender Championship Committee

Accommodation (Boys & Girls Hostel with Modern facilities)

Library Service

Technology Enabled Classrooms (Projectors in each class room)

Sports facilities

Multi Cuisine Cafeteria
Student Welfare Services
World Class Modern Auditorium with capacity of 4000 members
There will be free personality development, entrepreneur-ship, ethics, communications skills,
computing skills and placement specific programs for Students
Incentives and Rewards
The Management is pleased to announce the following incentives and rewards for Students:
There will be a BEST-OUTGOING AWARD
There will be BEST STUDENT AWARD (Department-wise).
BEST START UP AWARD
BEST PROJECT AWARD
BEST INNOVATIVE AWARD
Sponsoring money for first prize award winners in Techfest, seminar, project presentations. Appreciations are given by displaying the award winner names in the notice board
Yearly sports and games, cultural events are conducted regularly. The best performers are facilitated with the prizes, medals and certificates in the annual day and sports day celebrations.

LIST OF MOUS
1 Microsoft Innovation Center  Hackathon, Students Chapter, App Development,Microsoft Edvantage
2 IBM Center of Excellence Mobility, Big Data & Cloud Computing
3 Skill Development Center Mobile & Web Applications, Webinars, Faculty Improvement Program,Skill Improvement Programs,Placement Improvement Programs
4 Siemens T-SDI Design CBT Lab, Electrical Lab,Electronics Lab,Auto Lab - 2 & 4 Wheeler
5 Siddartha International Incubation Center Start-ups, Incubations, Seed Funding, Growth Funding
6 Intel Center of Excellence Adruino & Raspberry PI Programming on IOT
7 University of Massacchusets,Lowels, USA Students Exchange program
8 Oracle WDP The Company aims to excel the students in cutting edge technologies like Cloud Learning Subscriptions,IOT … through Java, Oracle, Node JS
9 DynEd A Professional Company to make the students in improving their Communications Skills so as to make Effective and Impressive Conversations
10 Hicor Technologies A Company which emphasizes on Mentoring the Students based on their Interest and to excel in their Domains
11 DND Global Technology &Solutions This Company is very keen in providing Industry –Academic Collaborations for the ultimate benefit of students.
12 Software Solutions  Company  that will be launched in SIDDHARTH CAMPUS very soon for providing Technical Software Solutions.
13 International Innovative Centre of Excellence Bhaasket Corp. USA Company that will be launched in SIDDHARTH CAMPUS very soon for providing Financial Services such as Quick Books…
14 Consortium of Construction Companies A group of Companies that inculcates the novel and innovative ways of training and mentoring the students to know, learn and practice the Construction methods
15 RLT Instrumentation Pvt. Ltd This Company provides internships and placements through collaborative and practical Training using TOT, Students Workshops
16 EduIndia A Malaysian Company which organizes Student - Faculty Exchange programs through Training, Internships, and Placements it also organizes skill development programs.
17 Jackson Hewitt Kanwal Kensra Jackson Hewitt Tax Service Inc. is the second-largest tax-preparation service in the United States; responsible for preparing over 2 million federal,state, and local income-tax returns each year.Siddharth group is entering into agreement with Jackson Hewitt to create more employment
18 I Global University of Northern Virginia MOU with I Global University of Nothern Virginia to establish SIDDHARTH CAMPUS in USA.
19 University of SOUTH FLORIDA Students Exchange Program, Faculty Exchange Program, Joint Degree program, Trainings, Internships, Placements
20 Trinity University of TAMPA Students Exchange Program, Faculty Exchange Program, Joint Degree program, Trainings, Internships, Placements
21 University of FLORIDA Students Exchange Program, Faculty Exchange Program, Joint Degree program, Trainings, Internships, Placements
22 FLORIDA A&M MOU with Florida A & M, for Agricultural and Mechanical Engineering Expertise through Trainings, Internships and Placements
23 Atlantis University of MIAMI Students Exchange Program, Faculty Exchange Program, Joint Degree program, Trainings, Internships, Placements
24 University of MIAMI Students Exchange Program, Faculty Exchange Program, Joint Degree program, Trainings, Internships, Placements
25 ICT Academy ICT Academy is an initiative of the government of India in collaboration with the state Governments and Industries. ICT Academy is a not-for- profit society, the first of its kind pioneer venture under the Public-Private Partnership model that endeavors to train the higher education teachers and students thereby exercises on developing the next generation teachers and industry ready students.
26 JISNU SOLAR PVT. LTD Jisnu is a leading Solar Power company, through this collaboration Siddharth Group is commissioning 500 KVA Solar power plant in the campus.
27 RAMBO Health Care A Natural Way of diagnosing and healing various health disorders by using Diet Plans for students and parents.
Promoting Student Innovation And Entrepreneurship
             As a part of academic courses provided by our institution , the students are exposed to Engineering physics ,Engineering Graphics help themselves project in a better way , Work shop space provide students an experimental space do make things i.e., ideas Mechanical . Helping student's research scientifically the Engineering Physics lab provide the required equipment and assistance from the faculty. 
                       Research centers to few branches has started and as the incubation center is in the budding state it needs to be approved this year but the experiments of the students are not banned anyways they are always encouraged with the maximum support. Making  students habited to the co-operate life soft skill training helps the students a great way.  The institutions are also Microsoft Ed-Vantage Platinum level campuses with  Microsoft Innovation center (MIC) in place.  This association with Microsoft is to encourage the students to get certified on Microsoft technologies and get an edge over their competition. TheAlumni committee makes a day of Innovation & Entrepreneurship exhibiting the talents and sharing the experiences. IBM Centre for Excellence gives is one such opportunity. MOU with university of Massachusetts , USA (MIT).The students pursuing technical courses are much benefitted with this they have gone through a certification course on MIT APP INVENTOR the students a chance all way to explore their talents and support inter-disciplinary projects. The Great Mind Challenge from APSSDC(Andhra Pradesh State Skill Development Centre )and through this Association with Andhra Pradesh State skill development Centre (APSSDC), SIEMENS company established following 07 laboratories with world class standards. Design CBT lab, Auto Two Wheeler lab, Auto Four Wheeler Lab, Electrical Home Lab, Electrical RAC lab, Electronics Home Lab and Electronics ICT Lab.
                       Coding competitions like Microsoft Hackathons , TCS Codevita , Amcat are served to the technical students to take them a step beyond in the world competition.  Innovation and Entrepreneurship division of Department of Science and Technology, Government of India has established prestigious incubation centre in Siddharth with registered name "Society for Siddharth International Incubation Centre" to support technology based start-ups, potential technology ideas and innovations. Siddharth International Incubation Centre already submitted 15 innovative ideas to Government of India and another 115 start-ups in pipeline. One of the US based company launching shortly in Siddartha.
Encouraging Faculty Innovation And Entrepreneurship
                 The faculty at SISTK are dedicated , ready to do their maximum to help to help their students anyway. Notably few of them are extremely talented and as they do assist students pursuing Doctor of Philosophy (Ph.D.) it also helps the students of Bachelor of Technology as the take part , involve in their research , help & learn .They works days & nights not taking them as border along with the students for their glory. They get trained in major aspects of technology, Innovation & Entrepreneurship outside the campus and return contented to start teaching & educating the students better. They help in analyzing the student projects step by step pointing the pros & consworking with the plan .
Actively Supporting The University Technology Transfer Function
               SISTK  uses the most technology to fit today's competing world and trains the students towards it. It always takes part in change or transfer of technology as a part of it world class interior auditorium with maximum seating capacity and highly efficient sound systems has taken its way. Our laboratories have been replaced with highly configured systems. As a part of this MOU's with like IBM, Microsoft, University of Massachusetts(MIT),USA and many others. The school is innovation in "Innovation centers" throughout the massive new buildings where students can collaborate on projects, the various companies and technologies so the students can be best flourish in entrepreneurship.
Facilitating University-Industry Collaboration
       "The campus allows industrial visits every year on different themes among them the most recent one was a  Bharat Sanchar Nigam Limited (abbreviated BSNL) is an Indian state-owned telecommunications company.  Financial literacy program to create awareness in villages and Digital Literacy program .Scientific visit to the SHAR [Satish Dhawan Space Centre of ISRO] a 5th ranking space center in world. The Students of SISTK went to Infosys campus  located in Mysore. Like this every time the SISTK tries in industry collaboration with the institution as it's ecosystem does. The one most advantageous thing is collaboration with IT and other private sectors around.
Engaging With Regional And Local Economic Development Efforts
                                             As a part of Digital India campaign launched in India by our Prime Minister our institution has taken part in solving the digital issues of therural parts of India nearby our Institution. The students actively participated to educate the people and make their works simpler by providing them mobile apps they needed. Students achieved 2 Prathibha Awards from AP Govt,in 2014, 10 Prathibha Awards in 2015, 7 Bagged 7 university gold medals in past 3 years, 5 prathibha awards in 2016. Sistk WEC[women empowerment cell] is to explore ,design and implement technological based magnificant change in the society and concur to the freedom feminism among the patriarchal society in expression of antifeminism.
Related links
Siddartha Institute of Science & Technology
Siddartha_Institute_of_Science_&_Technology_Student_Priorities
Edited By:
---
---