Fellow:Audrey Bull
Jump to navigation
Jump to search
Audrey Bull is a University Innovation Fellow and a Business Administration major in the Honors Tutorial College at Ohio University. Audrey was born and raised in Columbus, Ohio and loves traveling with parents and younger brother. As a freshman at OHIO, Audrey's took classes that opened her eyes to understanding the Appalachian region and the entrepreneurial climate at Ohio University, which undoubtedly shaped her collegiate path. 
Currently, Audrey is the Director of External Communications for the Ralph and Luci Schey Sales Center, a Senate Appropriations Commission Senator, and a member of the Select Leaders Development Program. Audrey loves being involved in a variety of activities and organizations on campus so that she can have a well-rounded view of the university and its students. Audrey is especially excited to be a University Innovation Fellow at Ohio University as she looks forward to igniting student's passions and helping them get the resources they need to succeed in bringing their ideas to fruition.
After completing her undergraduate degree, Audrey plans on going to law school and becoming a lawyer.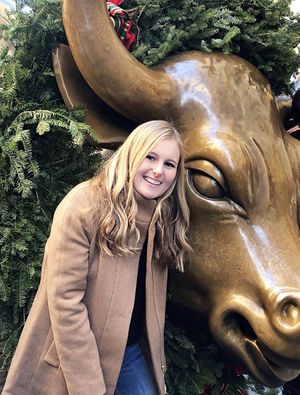 ---
Related Links
Ohio University Student Priorities
University Innovation Fellows
Fall 2018
Fall 2017
Spring 2016
Spring 2015
Spring 2014
---
---