Fellow:Adrien Feudjio
Jump to navigation
Jump to search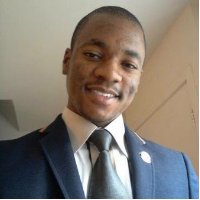 Mr. Adrien Feudjio
University Innovation Fellow, Spring 2015
              Adrien Feudjio is a junior passionate electrical engineering major and entrepreneurship minor student at Morgan State University with three years of specialization in telecommunication engineering from the University of Buea, Cameroon.He is presently the first vice-president of the Innovation and entrepreneurship program, a table topic speaker at Toastmaster International MSU Chapter, and prominent member of Institute of Electrical and Electronic Engineers society on campus.
              Adrien enjoys spending time watching inspiring TED talks and creating mobile apps for people for their personal usage. He also appreciate volunteering at Science, Engineering, Mathematics, and Aeronautic Academy (SEMAA) events organized by NASA on Morgan State University Campus.During fall 2014, at a business club fair in Morgan State University, he extensively promoted the Innovation and Entrepreneurship program which resulted in more than a hundred students signing in.
            As a University Innovation Fellow, he believes that students can make a great impact in society if they dedicate 60% of their undivided attention to building long lasting tangible professional skills and 40% on leveraging the resources at their disposal to foster socio-economic development in their communities. He has confidence that this objective can be attained by organizing interdisciplinary competitions, providing more I&E curriculum based courses in each department, hoisting I&E awareness sessions for instructors, and, more importantly, connecting students to resources through his UIF Project Morgan Konnect.
UIF Project #1: Morgan Konnect



Related Links

Morgan State University Student Priorities
University Innovation Fellows
Spring 2016:
Fall 2015:
Fall 2014:
Fall 2013:
---
---