School:V R Siddhartha Engineering College
Jump to navigation
Jump to search
Spring 2017 cohort
Overview
Velagapudi Ramakrishna Siddhartha Engineering College (VRSEC) Vijayawada was established in 1977 as the first private self financing engineering college in the state of united Andhra Pradesh. At present the college is offering seven UG programs with an intake of 1140, Nine PG programs in addition to MBA and MCA Courses making the total intake 1458.It has the Conferment of Autonomous Status by University Grants Commission in 2006, and extended up to 2012-18,  one of the foremost institution in the region to be conferred Autonomous.
It was Accredited by NAAC with A grade  for a period of five years  with a CGPA of 3.17 on four point scale effective from 25-10-2013 and with NBA Accreditation status to all UG programmes since 1998.
The graduate and undergraduate programs  integrate classroom education with best business practices, technology, and real-world experience. Furthermore, the college aspires to combine the best qualities of teaching and research to actively engage students, faculty and staff to work in close collaboration to expand knowledge.
Student Entrepreneurship
The college has many resources,tools available on campus that act as catalyst to improve Innovation and Entrepreneurship among students of different branches. We can always find the encouragement towards innovation in the campus. If the student is coming up with a great idea and if he/she has the ability to achieve what they thought then campus would definitely provide fund for their research and development. We get funding for research and development from #Internal Funding by Academy - Annually Rs. 5.0 lakhs is allocated. #Funding by alumni - Rs. 10 lakhs is available annually under this head #Funding by outside agencies - DRDO, ISRO, DST, AICTE, UGC give grants based on the projects submitted. Currently about 1.25 Cr worth projects are under process. Every Department has created R&D centres for perusing research and development which are operational actively.
If a student starts research and development then definitely he/she is the coming up entrepreneur in future because practical knowledge always shows the person different from all others. V R Siddhartha Engineering encourages students to become entrepreneurs. Recently one of friend in our class has started a start-up which is complete apart from academics our department and our college has encouraged him to become an entrepreneur.  To nurture the entrepreneurial,creative and innovation skills of the students ,various workshops,competitions,technical fests,talks,different clubs,incubation centers have been setup where students get inspired to become a social entrepreneur 
Faculty Innovation and Entrepreneurship
  To encourage Faculty to undertake research activities and commercialize their research into an innovation or entrepreneurial activity, various research centres have been established in various branches of VRSEC. The research centres that are aimed at improving innovation among thefaculty has following benefits :
* To enhance the awareness about research and innovation amongst the faculty as well as students through events like workshops, symposia and guest lectures on research methodology , innovation, patents etc.
*To encourage faculty member to get involved in R&D activities and further commercialize their ideas into a startup venture.
* To encourage/facilitate the faculty as well as students to publish papers in leading journals/ conferences.
* To create awareness and encourage/facilitate faculty as well as students to apply and work on funded research projects sponsored by IETE,APSSDC,INDIAN GOVERNMENT etc.The funding helps the Faculty to undertake their research and further commercialize it in association with the companies that have funded the project or partnership with other organizations
* To encourage/ facilitate the faculty as well as students to work on Industry based live projects that will help them to tie up with the concerned industry and develop entrepreneurial mindset with such projects.
University Technology Transfer Function
 The college thought that it would be beneficial if the corporate ethos is understood in order that the curriculum can be planned in such a manner that the products would be industry ready.So the college has close tie ups with TCS, Tech Mahindra, IBM, Oracle and many more. IBM and Oracle established some labs in the college that makes the students to get industry experience. Currently the transfer policy is on paper which may be implemented within a year.
The university technology transfer function has been further advanced through a partnership with Cisco netwroking academy this year.
University - Industry Collaboration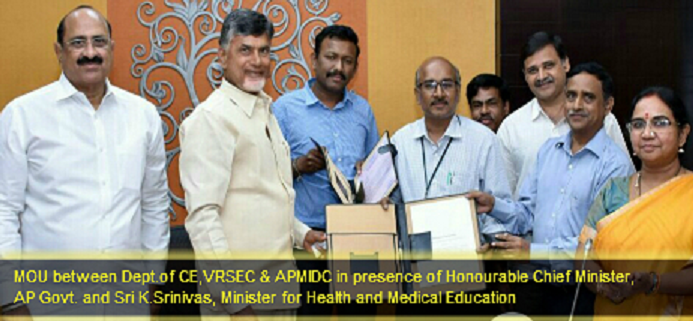 The  Entrepreneurship and Development Cell(EDC) of our college is the Cell to promote the  close interaction on Innovation and entrepreneurship, here some of the Industrial trainings are also offered with some interaction meets. Nearly  41  MoUs with industry partners. Relevant curriculum offered with the support of industry, MOU between Department of Civil Engineering, VRSEC &  Andhra Pradesh Medical Services and Infrastructure Development in presence of Honourable Chief Minister N Chandrababu Naidu, AP Govt. and Sri K.Srinivas, Minister for Health and Medical Education, AP. The students also form consulting teams and work like apprentices, closely supervised by a select group of experienced faculty experts.
The Alumni of the college have been making their strong presence felt at a host of high rated organizations like NASA, Caterpiller, IBM, Infosys, Wipro, TCS, Accenture, Polaris etc.In addition to displaying their acumen in their chosen fields of activity, VRSEC old Students Association, a Regd. Society, has donated Rs. 1 crore towards awarding Siddhartha Sahaya Scholarships to the needy and deserving students. The said Scholarships have been granted in association with Siddhartha Academy.
Regional and Local Economic Development
The Alumni of VRSEC and Siddhartha Academy of General & Technical Education, Vijayawada are providing scholarships to the academically bright and needy students of VRSEC.The grants in the form of R&D projects awarded by the UGC, AICTE, DST, ISRO, DRDO amount to Rs. Rs.260.21 lakhs during the last 4 Years.Renowned DST Sponsored TIFAC – CORE project in Telematics, first private engineering college in the state to secure TIFAC.The goal is promote financial literacy amongst high school students
Other
·         Rs 2.67 Crores of research grant from National funding agencies in last four years.
·         Award of TIFAC-CORE in Telematics by DST in 2009.
·         85 research publications in refereed journals and 104 in conferences in last 3 years.
·         IRG of about Rs 5.0 Crores from consultancy in last 4 years.
·         61 of faculty members are pursuing PhD using in house resources.
·         6 of faculty with R & D expertise acquired in the college have become prominent entrepreneurs in the country examples being (MIC              Electronics Ltd., Efftronics (P) Ltd., etc. ).
·         4th Rank as a Technology Hub at National level awarded by "Electronics for You" Magazine in 2010. 
Landscape Canvas
https://docs.google.com/spreadsheets/d/1z2oDG8ILICOcUDZAYqmZ9fEujUQ5FlU0LZE8q3Hc6EY/edit?usp=drivesdk&ouid=105506177157248281228
Spring 2018 Cohort
Skill Development labs
The college has set up a new offering from the Siemens company which is very beneficial to the students. It is provides 15 courses in various domains like electrical, electronics, mechanical, civil and instrumentation. The main objective of the offering is to implement a structured solution to up skill the workforce in the state of Andrapradesh and to increase employability and promote entrepreneurship in sink with industrial growth of the state. This mission will be done in a mode whose target is to skill 3 lakh people by meeting skill human power demands of all machines and shape Andrapradesh as the skilled work force and knowledge hub for the world. VRSEC is incorporated as skill development center which is among 299 centers that promotes skill development and entrepreneurship for the students. The program has successfully trained about 2000 fellows in year duration since from the date of commencement. The courses involved includes
| | |
| --- | --- |
| s.no | Name of laboratory |
| 1 | Electrical and Energy studies lab |
| 2 | Lift Installation and Maintenance lab |
| 3 | CNC Machine lab |
| 4 | Robotics lab |
| 5 | Automobile Body Painting lab |
| 6 | Automobile Body repair lab |
| 7 | Test and optimization workshop |
| 8 | Product Design and Validation lab |
| 9 | Advanced Manufacturing lab |
| 10 | NC programming lab |
| 11 | Rapid Prototyping lab |
| 12 | Tests and Optimization lab |
| 13 | Mechatronics lab |
| 14 | Process instrumentation lab |
| 15 | Automatation lab |
 Further information regarding course is available at engineering.apssdc.in/siemen
FALL 2018 COHORT
STUDENT ENTREPRENEURSHIP
Recently, the entrepreneurship club or E-Club was inaguarated amidst a lot of enthusiasam and aspiration. It looks to provide a platform for free exchange of ideas, and provide resources and opportunities to nurture ideas.It is still in infancy stage but the optimism surrounding its inception, gives every ideator confidence that their dream can be a reality someday! In addition to providing necessary guidance to budding entrepreneurs through exhaustive workshops about every aspect surrounding startups, the club is aiming to herald a new innovation wave within the college by encouraging everyone to come up with something new! The club is regularly conducting meet ups where you can discuss problems, come up with solutions and maybe even go on to implement them. They are partnering with top institutions in the country like IIT Bombay which are already famous for their strides in innovation.
FACULTY TRAINING AND INNOVATION
Every year, different branches of VRSEC conducts faculty training programs to train their teaching, technical, innovation and entrepreneurial skills.
Inorder to improve the scope for innovation and entrepreneurship, the college has come up with research strategies in arenas which have scope for the establishment of successful ventures.In the beginning faculty research on the topic and if the prospects seem promising, students are involved and further steps are taken to shape a endeavour that will address the problem researched. Some of the key areas being researched currently are :
An IOT based smart mobile health monitoring systemc

Tag identification for vehicles by using connected components based segmentation and template matching based recognition

College Activity Management System

Water quality management system through IOT

Biometric system on face recognition
UNIVERSITY INDUSTRY PARTNERSHIP
Industry partnerships are the key to bridge the gap between learning and implementing. VR Siddhartha has thus made industry partnerships a very important mission. We are partnering with reputed industries like Amazon, Microsoft,Siemens, UTL technologies to help students get first hand experience of real time working. Internships have been made compulsory in the latest curriculum and our training and placement department has left no stone unturned in helping students landing next level internship opportunites. We also have partnerships with software giants like Cyient, to help all our students get a taste of the software culture and decide for themselves whether they enjoy it or not.
Our college also arranged a week long faculty development program with Salesforce which stressed on the essentials for business specialists. This training aimed to equip professors with the business skills required to enhance profits of a startup venture. They will further impart this training to budding entrepreneurs in our college.
 Landscape Canvas : FALL 2018
https://docs.google.com/spreadsheets/d/1AmDPZ8hCijxnXg-4JtWJUbnExSRv59i6YaHRLFsrbgc/edit#gid=4
FALL 2022 COHORT
Overview
Velagapudi Ramakrishna Siddhartha Engineering College or VRSEC is a private engineering college located in Vijayawada, Andhra Pradesh, India, that offers an undergraduate education and postgraduate education in engineering. The institution is the first private institution to offer engineering education in the united Andhra Pradesh[1] and the first private college to provide PG Programmes in engineering in the state in the year 1977. The college was approved to be an autonomous institution by Acharya Nagarjuna University in the year 1977. The college has about 5700 students, more than 350 faculty ( Faculty with 88 Ph. D.s & 100 pursuing Ph. D.s ), and around 200 technical and supporting staff. Extracurricular opportunities include NCC, NSS, Students Chapters of IEEE, social clubs, and sports & games.
It was Accredited by NAAC with an A grade   for a period of five years  with a CGPA of 3.17 on four point scale effective from 25-10-2013 and with NBA Accreditation status to all UG programs since 1998. The establishment of Siddhartha Educational Institutions followed by the establishment of other educational institutions in the last 28 years transformed this city into one of the major educational centres.
The college is an autonomous college affiliated with the JNTUK, Kakinada. The college offers various UG and PG academic programs leading to the award of degrees such as B.Tech, M.Tech, MCA, and MBA with English as a medium of instruction. The programs are conducted on the semester system and each semester provides for a minimum of 90 instructional days. The regulations in respect of the academic program of study are prepared and approved by the Academic Council, the highest academic body in the college. The curriculum for the program of study is prepared by the respective board of studies and approved by the academic council. After successfully completing the program as per the relevant regulations JNUTK, Kakinada will award the degree.
STUDENT INNOVATION AND ENTREPRENEURSHIP
Velagapudi Ramakrishna Siddhartha Engineering College focuses more on the research and development labs that must come into existence so that they can help students to think out of the box. Also, the institution makes sure that Students are being advised about what are the benefits of starting entrepreneurship. The Siddhartha Academy Also organizes workshops under the guidance of successful entrepreneurs in which students must start their innovative idea. VR Siddhartha Engineering Collge provides Students with
Personality Development by Science and Humanities Dept.

ACM Student Chapter by Information Technology.

Meditation for Human Excellence By English Dept.

Athisaya club by electronics and communication dept.
FACULTY TRAINING AND INNOVATION
The faculty of VR Siddhartha Engineering College always takes the initiative and provides an environment to start entrepreneurship with the help of students in order to increase the awareness among the students. Faculty can team up with entrepreneurs it helps students to be aware of the process like how to start your own company and do well. Faculty also knows the benefits of starting entrepreneurship by students to make sure that the innovative idea could become real. The facilities provided by the VR Siddhartha Institution are:
APSSDC which provides courses for the students from all the branches to learn the new emerging technologies.

Optional research and Mobile Commerce offered by the institution for students from various branches.

Extra curricular clubs like NCC/NSS/EWD are offered by various departments.
Facilitating University-industry collaboration
VR Siddhartha Engineering College engages with the outside world and makes sure that student ideas are globally available. The institution provides Students to compete their ideas with the market and create a user-friendly environment to reduce the problem. The institution always provides students with knowledge from the emerging industries that use the latest technology and help the students in developing their idea. VR Siddhartha Academy also organizes workshops on Talent and entrepreneurship and invites the person from Industry to share their experience and knowledge with the students. The institution makes sure that the student ideas are collaborated with the industry and ensure that it becomes real. VR Siddhartha facilitates the following actions
Startup Gurukul by Dheeraj Kota in collaboration with CSE dept.

Anblicks by Information Technology.
Regional and Local Economic Development
VR Siddhartha always ensures that students must provide jobs for the unemployed in order to economic development. Students of this institution share their ideas with the community in order to ensure the development and the rise of technology. The local problems which people face are analyzed and the solutions are acquired by the students. VR Siddhartha has made many achievements with the help of the students who volunteer and come forward to help the people who face difficulties.
 Landscape Canvas : FALL 2022
University Landscape Canvas: Sheets
Related Links:
Landscape canvas link-spring 2018  
 Landscape canvas : Fall 2018
https://docs.google.com/spreadsheets/d/1AmDPZ8hCijxnXg-4JtWJUbnExSRv59i6YaHRLFsrbgc/edit#gid=4
Strategic priorities link -fall 2018
https://www.youtube.com/watch?v=-lQtVirvLAo&feature=youtu.be
Pitch video fall 2018 link:
https://www.youtube.com/watch?v=slVLqDRL3J4
Landscape canvas : Fall 2022
University Innovation Fellows:
Spring 2017:
Spring 2018:
Fall 2018:
FALL 2022 COHORT:
Viswanath Bodapati: Profile
Kalyan Suhas: Profile
SHANMUKH SAI SRINIVAS: Profile
Shreya Maryala: Profile
---
---