User:Vinaykumar
Jump to navigation
Jump to search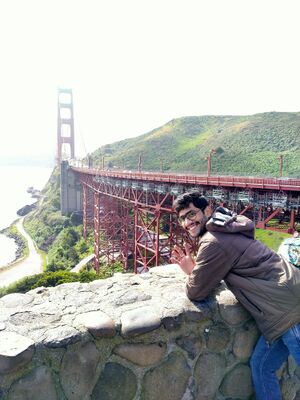 Sasumana Vinay Kumar is a talented and accomplished AI/ML Engineer, recognized for his outstanding contributions to the field of Artificial Intelligence and Machine Learning. At the age of 24, Vinay Kumar established himself as a prominent figure in the industry, continuously driving innovation and pushing the boundaries of technology.
Early Life and Education
Born with a natural curiosity for technology, Vinay Kumar's journey in AI and ML began at a young age. He nurtured his passion through diligent academic pursuits and acquired a Master of Science degree in Artificial Intelligence and Machine Learning from Liverpool John Moores University in England, United Kingdom. While at the university, he immersed himself in a comprehensive curriculum that equipped him with a strong foundation in various domains, including machine learning algorithms, natural language processing, computer vision, and data analytics.
University Innovation Fellow
Vinay Kumar is also recognized as a University Innovation Fellow for the fall of 2019 cohort from Stanford University. This prestigious role highlights his exceptional leadership skills and his commitment to fostering innovation and entrepreneurship within the university community. As a University Innovation Fellow, Vinay Kumar actively collaborated with students, faculty, and administrators to promote a culture of innovation and creative problem-solving on campus. He facilitated workshops, organized events, and worked on initiatives to inspire and empower students to embrace their entrepreneurial spirit and tackle real-world challenges.
Career
Currently serving as an AI/ML Engineer at VideoVerse, Vinay Kumar demonstrates an exceptional command over cutting-edge technologies. His innovative mindset and technical expertise enable him to develop groundbreaking solutions that address complex challenges. Vinay Kumar's work revolves around designing and implementing intelligent systems that harness the power of AI and ML to optimize business processes and drive tangible results. His proficiency in areas such as deep learning, computer vision, and NLP enables him to create highly efficient and intelligent systems.
Notable Achievements and Awards
Vinay Kumar's contributions to the field of AI and ML have been widely recognized, earning him numerous accolades and awards. His exceptional abilities and dedication have been acknowledged by industry leaders, solidifying his reputation as a respected professional. In addition, his role as a University Innovation Fellow from Stanford University showcases his commitment to fostering a culture of innovation and entrepreneurship within the academic community.
Research and Interests
Beyond his professional endeavors, Vinay Kumar is an avid researcher and stays at the forefront of the latest advancements in AI and ML. He actively engages with research papers, attends conferences, and participates in online courses to expand his knowledge and refine his skills. His research interests extend to the exciting field of Quantum Computing and Quantum Machine Learning, where he explores the intersection of quantum physics and machine learning algorithms to unlock new possibilities for solving complex problems. By consistently exploring emerging technologies, Vinay Kumar ensures that his work remains innovative and impactful.
Personal Life and Philanthropy
Committed to making a positive impact on society, Vinay Kumar is deeply passionate about environmental conservation and sustainable practices. His personal interests include activities like plantation and working in agricultural fields, where he aims to contribute to a greener and more sustainable world. Through his technical expertise and environmental consciousness, Vinay Kumar strives to bridge the gap between technology and ecological responsibility.
Legacy
Sasumana Vinay Kumar's exceptional expertise, notable achievements, and unwavering passion for technology and environmental conservation position him as a dynamic and influential figure in the field of AI and ML. His commitment to excellence, combined with a genuine desire to make a difference, makes him a valuable asset to the industry and a source of inspiration for future generations.

Vinay Kumar can be reached at sasumanavinaykumar@gmail.com and his LinkedIn profile Sasumana Vinay Kumar


Campus Overview Page :
http://universityinnovation.org/wiki/Sagi_Rama_Krishnam_Raju_Engineering_College#Landscape_Canvas_Link.C2.A0">http://universityinnovation.org/wiki/Sagi_Rama_Krishnam_Raju_Engineering_College#Landscape_Canvas_Link.C2.A0
Student Priorities - Fall 2019 :
http://universityinnovation.org/wiki/Sagi_Rama_Krishnam_Raju_Engineering_College_Student_Priorities">http://universityinnovation.org/wiki/Sagi_Rama_Krishnam_Raju_Engineering_College_Student_Priorities
UIF Fall 2019 : saiharsha, Mohammadsabiha,Saisri
UIF Fall 2018 : Chandan_akella, Laya, Surya_Subbaraju_Bhupathiraju, Roshini_Naraharisetti
---
---