School:Sagi Rama Krishnam Raju Engineering College
Jump to navigation
Jump to search
OverView :
==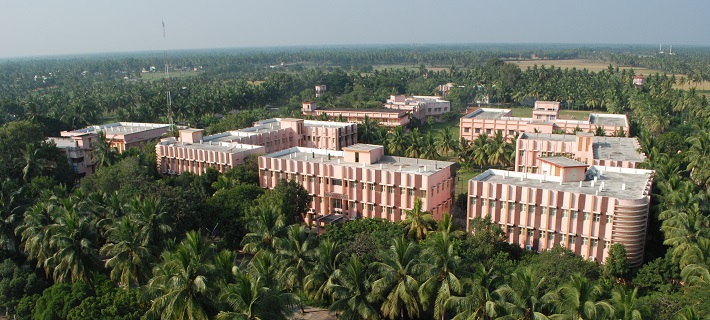 Sagi Rama Krishnam Raju Engineering College (SRKREC) is a Co-educational, Autonomous and a self-financed Engineering college. It is one of the Oldest Seminaries formed in 1980's by S.R.K.R.Engineering College Association to provide a better quality technical education to students. President Sri. S. Prasada Rajuis carrying forward the vision of his father Late Sri Sagi Rama Krishnam Rajuguiding the society on its path of excellence. The college is located with a  scenic beauty in a 30 acres plot in Chinna Amiram on Bhimavaram-Vijayawada state highway, It was well connected with rail, road, and air transport that is well known as "Second Bardoli" and is famous for "Pancharamas"(somaramam).
The college has a cluster of beautiful and spacious buildings with state of art laboratories, classrooms, Seminar halls and playgrounds. An eco-friendly environment is developed on the campus with a lot of greenery, landscaped lawns and gardens. S.R.K.R. Engineering College was established with a mission to develop the college into a center of Excellence in the field of Technical Education, Capable of Training students as sound professionals to cater to the needs of the society in the fields of production and service sectors.The college holds 1st rank in the best colleges of Andhra Pradesh category.Recently, the college is Ranked as 81 in the TOP 100 Engineering Colleges in India including IIT's and NIT'sby Ministry of Human Resources Department, Govt. of India. 
Salient features of the college:
Autonomous Institution

(UGC Approved) from the year 2016-17.

Permanently Affiliated to

Jawaharlal Nehru Technological University Kakinada (JNTUK).

Approved by

All Indian Council for Technical Education, New Delhi.

Accredited with

'A' Grade by NAAC with CGPA of 3.60/4.00 scale

which is a National level highest score in Engineering Colleges.

 Ranked as

81

st

in top 100 Engineering Colleges in India

in National Institute Ranking Framework     NIRF-2017 and 73

rd

  in NIRF-2016 by Ministry of Human Resource Development, Govt. of India.

 Selected for financial support under

FIST programme-2016

of DST, New Delhi.

·Recognized as Scientific and Industrial Research Organization (SIRO)

by Ministry of Science and   Technology, Government of India.

·Recognized as Business Incubation Centre (MSME)

by Ministry of Micro, Small and Medium   Enterprises, Govt. of India.

 Offers

6 UG Courses, 6 PG Courses and 6 Ph.D.

Programs.

·Accredited

Thrice by National Board of Accreditation (NBA).

 Secured the status of

2(f) and 12(B) of UGC Act in 1988.

 Recognised under

Pradhan Mantri Kaushal Vikas Yojana for Technical Institutes (PMKVY-TI)

for   giving training program for unemployed youth in 2016 & 2017.

 Awarded as

Best Institute in South India

by Dataquest in 2017.

 Academic Excellence Award for the year 2017 by Indian Technology Congress

Received Best Engineering College Award in Indian Engineering Educators and Administrators Conference 2017.

 Received Best Emerging Engineering College Award  for amazing ad outstanding endeavours in the field of Engineering Education from Score More Foundation, Pride India Star Puraskar.

Ranked as 17 in top 100 Private Engineering Colleges Survey 2017 by Higher Education Review.

Ranked as 45 in Top 100 Private T-Schools 2017 in India by Data Quest.

 ISTE Best Student Chapter Award 2017 for Andhra Pradesh Region by Indian Society for Technical education.

 Recognized as a CISCO Networking Academy in November 2017

 Rated AAA in NPTEL Online Certification Courses and achieved 2nd Rank in State Level and 10th Rank in all over India.

Best Accredited Student Branch Award for CSI Student Chapter (AP-69) by Computer Society of India (CSI).

Rated AAAA by Careers 360, 1

st

position in AP.

Our College Ranked as 79 in Top Private Engineering Colleges in India and 51 in South Zone by The Week – Hansa Research Survey 2017.

 Awarded as National Employability Award 2017 by Aspiring Minds

 Awarded as INDIA 5000 BEST MSME for Quality Excellence

 Ranked as 25

th

in top 100 Private Engineering Colleges in India by Higher Education Review.

 Ranked as 32

nd

in Top 100 Engineering Colleges in India and 10

th

  in Top 12 Engineering Colleges in South India by Silicon India

 Ranked as 59 in Top 100 Private T-Schools 2016 in India by Data Quest.

 Awarded as Best Engineering College in South India by National Education Excellence.

 Higher Education Review recognized our college as Engineering College of the Year 2015.

 Silicon India recognized our college as College of the Year 2015.

 AP State Government Knowledge Mission graded us A-Grade College.

 Our college is recognized as e.gov campus by Engineering Watch.

 IBM Ranked Our College as One of the Top 30 Colleges in India for Excellence in Great Mind Challenge.

Consortium Member in Indo-US Collaboration for Engineering Education (IUCEE)

 64 MoU's with Foreign Universities, Institutions and Industries.

Secured state 1st in startup India program. 
17 Center ofExcellencesareestablished:

Water and Environment Technology Research Center (WET Centre)

Geo-spatialInformation Center (GIC)     

Kolleru Lake Information Centre (KLIC)

Centre for Collaborative Product Development (CCPD)

Centre for Metal Matrix Composites (CMMC)    

Centre for Spatial Data Processing & Research (CSDPR)

Centre for Bioinformatics Research (CBR)

Centre for Knowledge of Life (CKOL)

Centre for Internet of Things (CIOT)

Centre for Interactive Intelligence (CII)

Centre for Organic Manuring Biogas and Jeevamrutham(COMBJ)

Centre for Biomedical & Image Processing (CBIP)

Centre for RF Systems and Antennas Research (CRFAR)

Space Technology Research Centre (STRC)

Technology Centre (TC)

Delta research and extension centre(DREC)

Centre for Archeology,Technology and Cultural heritage(CATCH)

Excellent

infrastructure

. Adequate Research Labs are available.

Experienced and well qualified faculty of 432 Nos., Faculty with Ph.D :99 nos. 68 are pursuing Ph.D and all other are M.Tech/M.Phil/post graduates.

Got All India

1

st

, 2

nd

, 4

th

,6

th

, 8

th

,12

th

, 14

th

, 18

th

, 21

st

, 22

nd

, 27

th

, 47

th

and 83

rd

 GATE Ranks.

Innovation Centers, Incubation Centers, Entrepreneur Development Center, Career Development Center, GATE Coaching, GRE and CAT Training Centers are in Campus.

Nodal Centre for

AICTE Smart India Hackathon.

Nodal Centre for

ESCI, The Institution of Engineers (India).

AP

Smart Skill Grid Centre.

i-Hub

(Innovation, Incubation, Industry) to promote innovation and entrepreneurship among students.

17 startups

established at i-Hub

Ongoing Research Projects

worth of 7.59 Crores

funded by

DST, AICTE,UGCand Foreign Universities are in the Campus.
ItoffersConsultancy to

ONGC, Reliance, NRSC, IDEA, A.P. Transco, Indian Railways, Panchayath Raj, Irrigation, A.P. State Government and Central Government Departments.

Most of its students are working in

Fortune 100 companies.
==

Student Entrepreneurship
== Perhaps the biggest strength of the college is the support and Encouragement of managementfor upcoming entrepreneurs. SRKREC encourages and promotes the students to think innovatively and develop their entrepreneurship skills in different ways. The management regularly inspires its students by conducting summits on career-guidance, innovation, entrepreneurship,etc., It also has departmental organizations like IETE, ACE, AME, IE, CSI, AEEwhich emphasizes on improving the technical skills of its students which in turn evokes the entrepreneurial insights of the students.These organizations help the students to prototype their ideas which will be later sent to the Technology and Innovation center of the college. The Technologycenteris the base for all the entrepreneurial and innovation activities of the college. Students who have ideas or prototypes will be using the tech center to develop their product and pitch it to Investors for Funding. In the recent years, SRKREC has produced some top class scientists and entrepreneurswith their support and encouragement. Many students have got patents for their prototypes and went on to become successful entrepreneurs. 
==

Faculty Innovation and Entrepreneurship
== The college faculty is highly involved in entrepreneurial and innovation activities.As much as 14 people have patents on their works which explains the faculty's involvement in research and entrepreneurship. SRKREC's faculty have been partners in many software and hardware companies. This helped the college to achieve more job opportunities to students seeking jobs and stood as one of the very few colleges which achieved 100% campus placement. Some persons from the faculty like Dr.Padma Raju have been the founder of NetEnrich Technologies which is one of the leading software companies in India. Students are getting benefited by the faculty as their contracts are helping the students to build-up careers of their students.The college had a faculty-student ratio of 1:15  which brought extensive care between students and faculty.38%of the faculty holds doctorates from different fields which shows the interest of faculty in research and entrepreneurship. The faculty follows the policy of "Aspire to Inspire".
==

University-Industry Collaboration
== Collaboration between Colleges and industries is critical for skills development (education and training), and for the promotion of entrepreneurship (start-ups and spin-offs). To get the students ready for industry experience College adapt some measures to give hands-on experience by Campus Recruitment Training(CRT). College also has signed many MOUs with various companies.
Microsoft Innovations academic relation center.

SRKR Engineering College has collaborated with 30 Foreign Universities as a part of Indo-US Collaboration in Engineering Education.

Certification by M/S Infosys Technologies as " Centre of Excellence".

   MOU's with :
Zinka Connections Pvt. Ltd.

The Blackbuck Engineers Pvt. Ltd., Hyderabad to develop and carry out collaborative activities.

Andhra Pradesh State Skill Development Corporation (APSSDC)

as Skill Development Centre (SDC)

National Skill Development Corporation (NSDC) as Skill Development Centre  from NASSCOM

Tata Consultancy Services Pvt Ltd. for TCS Academic Interface Programme

Mantena Infra to foster Research Collaboration between Institution and Industry.

National Programme on Technology Enhanced Learning (NPTEL) to establish NPTEL Local Chapter in the College.

MGB Motor and Auto Agencies Pvt Ltd (JCB), Hyderabad for in-plant training

Infosys Technologies Limited for Campus connect program to enhance the quality of education

Hewlett-Packard (HP) India Software Operation Pvt. Ltd. to extend University Relationship Program (URP).

CoCubes Technologies Pvt. Ltd. to support placement activities of the College.

Randstad India Pvt. Ltd. to become an employer of choice for trained and employment graduates of the institute.

IBM India Private Ltd. for Academic Initiative Programme.

Indo - Us Collaboration For Engineering Education (IUCEE).
==

Regional and Local Economic Development
== The college is declared as Regional Development Centre by Government of India in 2016.The Technology Center of the college is the base for a number of regional and national level development activities.MSME have established their regional center in SRKREC. The college has the only incubation center in the district. SRKREC is heavily indulged in the local development and Research activities by providing a centre in the college(WET Centre) for research on local issues like Kolleru lake, Sanitation etc., The High court of Andhra Pradesh has requested the college to provide reports on certain problems due to which the government sanctions have been given based on the courts ruling.Andhra Pradesh State Skill Development Corporation sees SRKREC as a base for spreading knowledge to different engineering institutes.
==

Landscape Canvas Link :
== 
https://docs.google.com/spreadsheets/d/1tBYiDSE9a3EaGDOZxjuuWRDnKwPISjOVFfGXDjw4w8k/edit?usp=sharing
==

Student Priorities Link :
== 
http://universityinnovation.org/wiki/Sagi_Rama_Krishnam_Raju_Engineering_College_Student_Priorities
==

College Related Website Links :
College Website :
==

College Technology Centre Website :
== http://www.srkrcampus.net/techcentre/
==

College Pitch Video :
 https://www.youtube.com/watch?v=FHA2zzINaf4&feature=youtu.be

Spring 2017 Team  : Dinesh, Ajay, Srikanth, Susruth
 Fall 2017 Team      : Uday, Phani, Ramya, NagaMani
Spring 2018 Team  : Susmitha_parimi, Santosh_Mummidi, Krishna_Chaitanya_Katta, Priyadarsini
Fall 2018 Team : Roshini_Naraharisetti, Laya, Surya_Subbaraju_Bhupathiraju, Chandan_akella
Fall 2019 Team : Harsha,Vinay, Sabiha,Saisri
---
---