User:Kdzug
Jump to navigation
Jump to search
Serving as UIF Since: Spring 2013
School: Southern Illinois University at Carbondale
What she does now: Network Development Director, UIF
What that means: creates ways for Fellows to connect and designs opportunities for Fellows to share their impact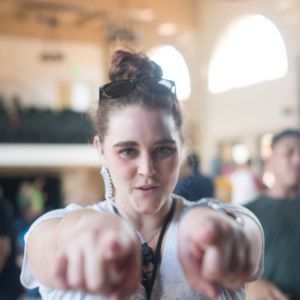 Contact her about: student incubators; branding; desinging learning experiences; finding the next generation of Fellows at your school; her love of coffee <3 or just in general as your #1 hype girl     
Email: katie@universityinnovation.org
Phone: (413) 274-7077
Katie is a former University Innovation Fellow who graduated from Southern Illinois University atCarbondale and joined the University Innovation Fellows program to expand the global student movement. By grooming students to be change agents on campus, the Fellows program empowers students to create programming and resources to support the growing student interest in innovation and entrepreneurship.
Her work at SIU Carbondale involved helping students realize the power of their ideas and navigate the process of starting a venture. Out of the work in the region through the Southern Illinois Research Park, she helped develop Saluki Ventures, a student-focused incubator. This space allowed students access to resources and a community of professinals that wanted to see each of them learn and succeed. This is where Katie realized her true passion for mentoring others and innovation and entrepreneurship becuase of the fast-paced and ever changing nature of the industry.
Katie now provides support to communities of Fellows working to deploy change strategies and who collaborate regionally. In addition, Katie is expanding the programs network strategies by connecting Fellows to different national communities around topics of interest. She continues to pursue her passion for learning about the entrepreneurial mindset and lending her knowledge to student catalysts changing the innovation and entrepreneurship ecosystem on campuses across the globe. Katie holds a B.S. in Management, Marketing, and Entrepreneurship, as well as a dual Master's of Business Administration and Master's of Arts focused on the nonprofit sector and strategic communications.
Here's a video about the University Innovation Fellows program through the lense of the Silicon Valley Meetup help in March 2017:
Related Links
Souther Illinois University Student Priorities
University Innovation Fellows
Spring 2016:
Fall of 2015:
Spring 2015:
Katie Dzugan