School:Universidad Católica del Uruguay, Salto-Punta del Este
Jump to navigation
Jump to search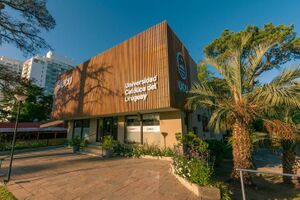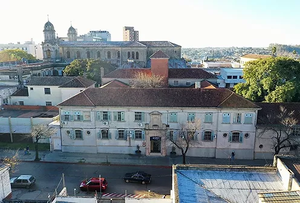 Overview
Catholic University of Uruguay it is a private university in Uruguay opened in 1985. It was the only private university in the country for 11 years until 1996. It`s full name is Universidad Católica del Uruguay Dámaso Antonio Larrañaga, and is a work of the Society of Jesus.Its main campus is in Montevideo; there are two other campuses, in Punta Del Este and Salto.
The Campus in Punta del Este was inaugurated in 1998, it is located in Av. Roosevelt y Florencia, parada 7 y 1/2.
The Salto campus was opened in 2003 with a bachelor's degree in business management
Careers
Punta del Este
Today the Punta del Este campus offers the following degree programs:
Communication and Marketing.
Public Accountant.
Business Management.
Human Management.
Business and Economy.
Computer Science.
Psychology.
Nursing.
Adding to that the university has a specialized centers called HABITAT that is a center for sustainability and care of the environment.
Salto
The Salto campus offers the following degrees:
Public Accountant
Business Management
Human Management Analyst
Economy ( 1 year )
International Business ( 1 year )
Software Developer
Therapeutic Accompaniment
Nursing
Psychopedagogy
Promoting student innovation entrepreneurship
The Universidad Catolica del Uruguay strongly believes that innovation and entrepreneurship are important values that every student should have, along with the skills and knowledge to be able to analyze the environment in which they live and create solutions. The university provides support and spaces to any student who has the desire to undertake, in addition to the incentive to those who have not ventured to try it yet.
As part of this proposal of the university, open lectures and talks are frequently held where students can see and learn how to innovate and acquire the necessary skills to do so.
Within each career, courses are offered where they can develop small projects with the possibility of becoming a startup in a controlled environment where they have continuous support from the teachers in whatever they need.
Encouraging faculty innovation and entrepreneurship
An event called "UCU Week" is also held once a year, where students can participate and get involved with the city through workshops and activities, solving problems, trying new things and, above all, working in teams that are transversal to the degree course they are studying.
For people from first grade, there is a proyect obligatory for everyone transversal to all the subjects called ``ABP`` in spanish Aprendizaje en Base a Proyectos. In this proyect you have to create a innovative solution for some problem of the topic selected by the university for that year.
Facilitating university-industry collaboration
The university has some subjets that collaborate in the relationshit between university-industry for example, Entrepreneurship, Human Talent Management, Leadership and Transformation, Geographic information systems and innovation, COIL, Strategic Marketing, Design Thinking, Marketing Digital, etc. All this subjects make that the students were more related to innovation, entrepreneurship and the most important part is that the students go out of the university with more experience in the world of Business and compnies, what is very important for the laboral market.
Engaging with regional and local economic development efforts
In Punta del Este and Salto there are many places where you can go to share your ideas and carry them out, getting support and help to develop them. Among them is in Salto the commercial center, Centro Pymes, Salto emprendedor.
On the other hand in Punta del Este you can find a few more, they are: Maldonado Emprendedor and Start-up Cowork cafe
Related Links
Fall 2022 Fellows
---
---