Fellow:Manuel Buslón
Jump to navigation
Jump to search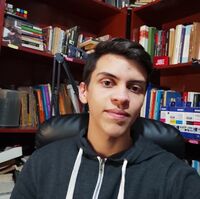 Name

Manuel Buslón

School (Cohort)

Universidad Católica del Uruguay, Salto-Punta del Este (2022 cohort)

Majoring in

Computer Engineering

Country

Uruguay

Email
Bio
Manuel is a student passionate about finding solutions and creating tools to facilitate the work of others using computers.
He was born in the city of Salto, a small city in the north of Uruguay. Since he was a child he was interested in teaching others what he learned, sharing with others how he saw things and trying to achieve what they are looking for with a good training. He is a second year student of the undergraduate degree in computer science in Salto and also plays the role of adjunct professor, accompanying new students in the career during their first experience with computer science. In this way he fosters with his experience the passion they have for innovating and creating solutions.
His dream is that through technology and education more students will be able to achieve what they want and feel is their own, making a change in their lives and perhaps in the lives of those around them. That they can access more possibilities and rediscover their passions.
He also enjoys pixel art and video game design.
Achievements
He is an assistant professor of programming at his campus.
He won an instance of "Semana ucu" on his campus with an application showcasing local production.
He is currently working in the software industry, fulfilling part of his dream of bringing solutions to people through technology.
Social media profiles
---
---