Priorities:IE University Student Priorities
Jump to navigation
Jump to search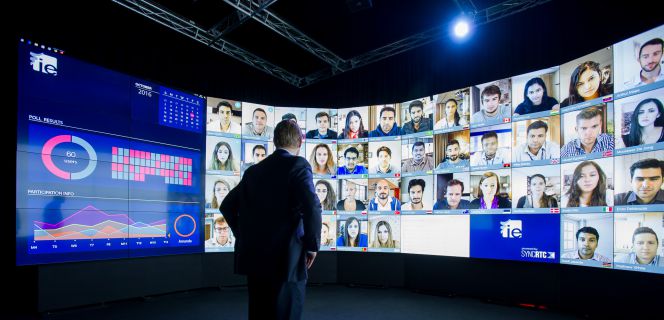 Strategies Second Cohort: 2019-2020
Change Story Link of Second Cohort
IE University project video for the University Innovation Fellows program, created by Sophiia Dehe, Mae White, Jason Yeager and Sole Artom.
Strategy One: Passion Project (Mae White)

After a thorough investigation in the student ecosystem of IE University, our team found a disconnect between what the university offered its students, and how much students took advantage of these events. The question here is, "How might we inspire students to engage with the university's resources?"
A possible answer may be creating a semester long program for first year students to learn more about their passions and interests through the web of IE events. At the end of the program, students will embark on an "innovation challenge" that will encourage students to make traction in their field of interest.
The student will first provide our website with their top 5 interests, and the algorithm will present a list of future IE events matching these keywords. The events will appear on the student's calendar, of which they must attend a minimum of 5 before the innovation challenge. During this time, the student will be prompted to network with other students and find a group of minimum 4, maximum 8 people whom they work well with and share similar interests. This group will then begin the innovation challenge in which they will spend a week following a design thinking curriculum (possibly modeled by IDEO) where they will finally present their final idea to a member of staff of the team's chosing. Upon presenting, each student must submit a record of the events they visited as well as a small reflection on each which the jury members will validate. Students must hand this paper into their academic advisor to recognise participation.
The key is to remind the student that this is a non-graded and non-academic program where the process is more important than the final result. The incorperation of the innovation challenge is to introduce design thinking to the student body in a digestible way, while giving tangible significance to their involvement at the end of the semester. The necesary steps to implement this idea are:
1. Create and finalise a design thinking curriculum that will be used during the innovation challenge. All UIF memebers will partake in this. 
2. Meet with IE's tech team to include a website that is part of the student's personal online campus. This will be where students can see all the events that meet their interest. A fellow in the Madrid campus will handle this.
3. Create the welcome email that explains the program to the first year student. All UIF members will partake.
4. Meet with the head of Student Life to make sure the students recieve the email. This can be done by a Segovian fellow.
5. Update all staff members, employees, professors and administration that they may be selected for the innovation challenge jury at the end of the semester. This should include a brief of their responsibilities in relation to jury duty. All UIF members will partake.
6. Confirm with academic advisors of all majors that this program must be validated by the jury as "completed" in order for student's participation to be recognised. This can be taken care of by a Madrid fellow.
Strategy Two: The Green Movement Workshop (Sole Artom)
We noticed how on campus it's not common for students of different degrees to work together and create projects benefitting from the different backgrounds that the various academic paths give them. Furthermore, an increasing problem within our University is its sustainability, as students are trying to find more and more ways to become more green and help the planet doing as much as they can. We decided then to unify these two things into a single project, that would see the setting up of a workshop, called "The Green Movement", in order to apply design thinking skills to create a possible sustainable solution to an existing problem of the University. Within this workshop, students would be required to work with people from degrees different from their own, with the aim of building a bigger community among them. This workshop would be a one day long workshop, with the possibility of having a winning project that would then be proposed and applied to the University. It acts twofold as it would provide a solution to the University for its non-sustainable assets, but it would also provide students with design thinking and problem solving skills, together with community engagement among them. 
Steps required:
1. Talk to the department of academics, Student Life or Direction in order to set up a new workshop and understand the logistics needed - Sole can handle this
2. Talk to stakeholders and university staff in order to select areas of improvement that can be challenged and to agree if winning project can be applied - Sole can handle this
3. Carry out a campaing to involve students in the workshop - Everybody can handle this
4. Define the plan of the workshop and deadlines to follow, and set up a date and place where to carry out the workshop - Sole can handle this 
5. Create the teams - Everybody will handle this
6. Launch the design thinking & green movement workshop - Everybody can handle this
Strategy Three: IE Student Connector (Jason Yeager)
One of the key notable characteristics of IE university is its diverse student body. Each student on the campus brings something different to the community, their own unique skills and characterstics. We believe we can improve and help change how we connect students together for the better.  We believe that we can do a better job in helping connect students from a friendship and entrepreneurship perspective as well as helping connect students with events that might be interesting to them. 
The solution...?

IE Student Connector:
We realize that sometimes regular social events and networking opportunities at IE aren't enough to discover and meet all the interesting people there are in the university each student could potentially get a long with OR work well with on interesting project together. IE Stdent Connector, would help connect students together through the use of this online platform. It's really quite simple and effective way for you to introduce yourself to new interesting people. It works by having students sign up and complete a survey. Based on the survey results we can then suggest people you might be interested in getting to know from friendship reasons or entreprenuerial reasons. Additionally, based on the answers you've given we can effectively suggest events that might be intersting to you. 
Steps to succesfully build and launch this platform at IE: 
1. Talk to stakeholders who have control over the Campus Life and would be responsible in helping create this platform whithin IE - UIF Team
2. Build the website and have the demo version reviewed by a random sample of over 15 students. Get there opinoin and feedback on the website, the sign up process and the platform. Answer questions like how easy is it to sign up? Could this be valubale? etc.  - Jason
3. Make necessary modifications to the website based on the feedback gathered
4. Design and implement a marketing strategy that will effectively influence a large group of IE students to sign up and join the platform. 
5. Find a way to make promote the platform through other mediums such as Instagram, Facebook as well on current IE related websites that students run into. 
Strategy Four: Self-Help Routines (Sophiia Dehe)
We have discovered that within IE there are a lot of tools in order to learn about Well Being in general as well as them providing a counselling service that any students can reach out to. However, there is not much about the possibility to apply some self help tools for them to independently be able to gain a better quality of life. Sometimes there are external talks organised by the university about happiness and well being in general, but these are very rare and are not something that the students can rely on to desire gaining the knowledge whenever they want to. Furthermore, the importance of self help routines as well as the development of the soft skill emotional intelligence is becoming more and more important within our society. EI is predicted to become one of the top 5 soft skills needed in the entrepreneurial world by 2025. Therefore, giving the students the opportunity to develop their emotional intelligence would be an unique chance for them to enhance their possibility of a successful life career wise as well as their general quality of life and level of happiness. In order to transform this idea into reality, we would create a seminar provided by IE in which a good balance between theoretical awareness of Emotional Intelligence and its impact in life as well as the workplace, workshops to apply self help tools for every day life and talks given by professionals in this area such as psychologists or life coaches, would be provided.
The necessary steps would be needed in order to fully develop this idea:
Step 1: Reach out to the professors within the Psychology Department in order to see which professors would be interested in this project and in the design of the classes and workshops. Sophiia will handle this being a psychology student herself and being aware of who to reach out to within this department.
Step 2: Reach out to the department of academics and enrollment in IE in order to discuss the possibility of adding this seminar in the list of seminars provided to us everytime we want to enroll. All would handle this since it can also be discussed in the stakeholder meeting when we will present the different ideas we could implement in IE.
Step 3: Reach out to the students making them aware of this seminar and making them realise that they can be part of the seminar whenever they have to enroll for them before each semester. All will handle this as it will be a matter of advertising this seminar as much as possible within IE Community.
Step 4: Connect the Well Being Center to this seminar as all the other resources about well being come from this center and therefore we would be able to have their support and we can connect all the resources to make them more available to the students as well. Sophiia will handle this as she has been interacting with the Well being Center of IE.
Step 5: Coordinate the team designed for this seminar including the teachers in order to organise the seminar very efficiently and provide a seminar of good quality as to ensure reputation and fame of it within IE. Sophiia will handle it as it will mainly be her professors with who she usually has classes or had classes with them before and know them well.
Step 6:Design a source of feedback from students as well as teachers in order to ensure the good quality of the seminar and the sustainability of its existence, improving it as well in order to best fit the needs and desires of students according to what they want to get out from this course. All will handle this.
Strategies First Cohort: 2018-2019
Strategy One: IEU Community Board (Giulia Camargo)

Inspired by a visit to the Google campus in Madrid, we want to create IEU's first Community Board. A simple cork board with the purpose of sparking collaboration through pinned self promotion ads. We want to develop a space in which people are free to showcase their strengths, interests and what they lack to create something amazing. This board would allow students to connect with other that have similar interests, or ones that have a complementing skill. It would also be a space for students to promote their startups and other initiatives on campus in one centralized location. This is a simple initiative that will start to create offline and meaningful connections between campuses.
For example, there would be forms that each student can fill out that say:
Name:

Contact Details:

Bachelor:

Campus:

I am a: _________

I am looking for: ____________

Further information: ___________
Step #1:

Talk to the stakeholders that are responsible for the space (Casa de la Moneda) and decide where would be the best area to place the board. (Juan Carlos, Miguel Larrañaga) Giulia will handle this task.

Step #2:

Create the design of the board and the forms to motivate students to place the ads. Giulia will handle this task.

Step #3:

Create a campaign to raise awareness of the Community Board. Giulia will handle this task.

Step #4:

Showcase an 'Entrepreneur of the Month' to boost the board's visibility and liaise with the IE Marketing department to ensure it is also shared on the university's social media channels. Giulia will handle this task.

Step #6:

Ensure the readability, materials and quality of the board are always taken care of! Juan Carlos will take care of this step.

Step #7:

Upload the information of the board online at the end of every week so that both campuses have access to it.  
Strategy Two: Overnight Corporate Challenge (Catharina Doria)  
Currently, we are facing a huge challenge in our university. Not only do we have two disconnected campuses, one in Madrid in one in Segovia, but we also feel there is a lack of conversation between the master degrees and undergraduate students. In order to improve our university experience, we propose to set a new tradition at IE university: The Overnight Corporate Challenge.
This corporate challenge is all about finding an opportunity for a brand. The twist?Each team has only 12 hours to find a solution- from 9PM to 9AM, thus overnight corporate challenge. Students would apply individually, and we as the organization team, would separate each group making sure that each of them has two students from three different categories: Madrid Campus, Segovia Campus and Master Students.

After the 12 hours containing multiple challenges, pizzas, coffees, strict deadlines and plot twists, teams would have to pitch their final ideas at 9AM for our guest brand. A committee would then decide the winning team, which would be rewarded accordingly. A breakfast would be provided as the closing ceremony, a perfect way for everyone to share their experiences how they ended up seceding - or not.
Therefore, this event could be groundbreaking for the university, not only in terms of fostering a connection between two campuses, but also by allowing students to show what they are capable off - and by this we mean all students. From Business to architecture or from Communication to Law. Everyone would have the same opportunity to show what they are here in university for.
We want students to push themselves. To connect with each other. To feel sleepy but endure in order to create something amazing. We want them to have fun, to learn and above all create connections and friends that will last them a lifetime.
- Step #1:Talk to the stakeholders about the creation of this event - Student Life, Direction, Entrepreneurs, Restaurant and Students. Catharina will handle this task.
- Step #2: Send the form for individual applications. Catharina will handle this task.
- Step #3: Define location, security plans, food and strategic measures in order to create this event for 100 people. Guzman will handle this task.
- Step #4: Create a campaign to interest students about the coming event. Giulia will handle this task.
- Step #5: Separate the groups and release an email with the selected teams.Sam will handle this.
- Step #6: Launch the Overnight Corporate Challenge. Catharina will handle this task.
Strategy Three: VIP Entrepreneur Dinners (Samuel Gonzalez)  
Our university, which has two campuses in Madrid and Segovia, faces a disconnection problem between both and a problem related to the inactiveness of its student body. Each year, big inter-campus events(i.e. Spring Ball) promote the connection between students but at the end of the day, students do not really mix with each with other campuses' students in these.
Therefore, we propose to help in the solution of both problems with small dinners with top entrepreneurs that will reward activeness in their campus by selecting the students from both campuses who participate the most in Campus Life. The fact that the dinners will have a small number of attendees that are interested in a similar topic, will foster meaningful relationships across campuses.
- Step #1:Talk to the stakeholders of the planned events - Student Life, Direction, Entrepreneurs, Restaurant and Students. Samuel will handle this task.
- Step #2: Define the procedures to select students for the dinners. Guzman will handle this task.
- Step #3: Create a campaign to interest students about the coming events. Giulia will handle this task.
- Step #4: Select the first entrepreneur and the venue. Catharina will handle this.
- Step #6: Launch the VIP Student Dinners. Sam will handle this task.
Strategy Four: Fuck Up Nights (Guzman Noya)
In our experience at IE so far we have noticed that fear of failure is a predominant reason why students to not start their own projects. From clubs, through all sorts of extracurricular activities, and start-ups, there is a huge potential wasted simply because of not wanting to "fuck up". In the best spirit of design thinking, failing and trying again provides experiential learning and becomes a valuable asset for eventual success.
We believe in many cases this fear comes from the fact of the understandable but biased media and academic visibility of successes over failures. We will give the spotlight to entrepreneurs and members of the community who feel comfortable sharing the positive outcomes of their failures - removing the taboo, inspiring students to action, and stimulating a the spirit of sharing.
- Step #1:Reach out to people who have developed similar events, both inside and outside the community. Understand the logistics, staff and funding needed. Guzman and Sam will handle this task.
- Step #2: Reach out to University authorities about resources available, including venue and financial support. Find missing resources elsewhere. Guzman will handle this.
- Step #3: Assemble a team and plan the event. Finding the suitable people to organize it and to present will be the most significant challenge and critical to event success. All of us will participate in this point.
- Step #4: Ensuring the diffusion and engagement of students to attend the talks. Giulia and Catharina will do this.
- Step #5: Carry out the event, ensuring and engaging and quality experience, surpassing expectations. All will handle this.
- Step #6: Gather feedback and ensure sustainability by defining team and growth goals for next event. All will handle this.
Related Links
UIF Fellows 2019-2020:
UIF Fellows 2018-2019:


---
---