Fellow:Yulia Gimena Martinez Trevino
Jump to navigation
Jump to search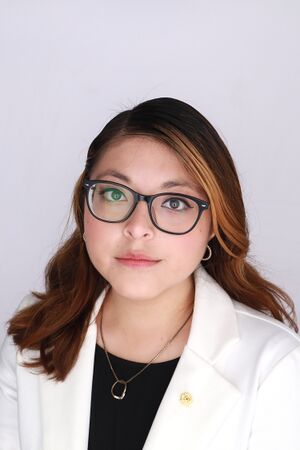 Name

Yulia Gimena Martinez Trevino

School (Cohort)

University of Cincinnati (2021 cohort)

Majoring in

Computer Science

Country

United States

Email
Bio
Yulia Gimena Martinez is a 1st Generation Mexican Immigrant and a 1st Generation College Student at the University of Cincinnati. Martinez is in her 4th year of the College of Engineering and Applied Science, Computer Science program which is 5 years in total.
At the University of Cincinnati Yulia is a part of the Student Government and serves the student body as a Senator-at-Large. She has also been a Resident Advisor for three years and will now start the 2021 semester as Head Resident Advisor for the Stratford Heights Community. Yulia is also a representative for the University as a ROAR Tour guide, a College of Engineering and Applied Science Ambassador, and a Student Orientation Leader.
Yulia is a passionate advocate for marginalized communities through her positions in student organizations such as a mentor for the Association of Computing Machinery for Women as well as the Women in Technology organization. She also serves as the Secretary for the Association for Women of Color in Engineering.
Martinez had the opportunity to join the University Innovation Fellows through the newly founded NEXT Innovation Scholars program at the University of Cincinnati. Martinez is in the first-ever cohort of students for this scholarship program and is joined by 3 other University of Cincinnati fellows, Jonathan Raj, Lily Stewart, and Haley Rich.
Yulia Martinez enjoys spending time with her little sister and brother and her 2 dogs as well as playing in the Bearcat Marching Band.
Achievements
Deans List, Cincinnatus Scholar, Next Innovation Scholar, Senator-at-Large, Head Resident Advisor, University of Cincinnati Composition Competition winner, and Student Orientation Leader.
Social media profiles
Instagram @yulia.gimena
---
---