Fellow:Yaswanth Balaramaraju Manthena
Jump to navigation
Jump to search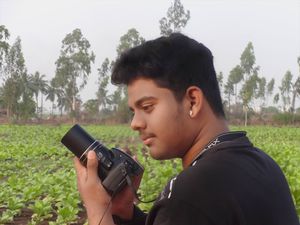 Yaswanth Balaramaraju is an undergrad seeking Bachelor of Technology in computer science background from Godavari Institute of Engineering and Technology and he is also employed as an ASP.Net developer at "Hebeon Technologies". From his childhood he is very enthusiastic to explore himself to computers and other tech gadgets and that laid the foundation for him to learn programming , testing and ethical hacking. Sooner or later, when he is working at his workplace, he observed that many noteworthy issues are yet unsolved that individuals are confronting a great deal , then he took a motivation to find a solution to those issues.

           So he has decided to make his passion rooted over helping people by creating scalable technology platforms and furthermore from the things which he have learned. He took a initiative to help the cops in investigating cyber-crimes and helped many clients to secure their privacy. He created awareness on Cyber-Security and Web-development to 1200+ students when he worked as cyber security analyst in"Byod-Buzz" company. Now, he is the founder of the company named "Rollers Technology Solutions" established in the year 2016.
School : Godavari Institute of Engineering and Technology.
What he does now : ASP.Net Developer , Hebeon Technologies and Founder of Rollers Technology solutions.
Social Sites :
LinkedIn , Facebook , Instagram
Email : ybgeeker@gmail.com
Related links :

Landscape Canvas : Click here
Campus Oveview Page : Click here
Student Priorities Page : Click here
Final Project Video : Click here
---
---