Fellow:Vivian Ferris
Jump to navigation
Jump to search
Vivian Ferris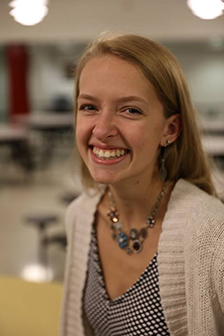 Junior Mass Communications and Theatre Major from York College of Pennsylvania. She is from Chester Springs, Pennsylvania and graduated from the Downingtown STEM Academy in 2015. Both passions grew roots at the Academy participating in both the Theatre program and the TV Studio as a director.
Vivian participates in many activities around campus. She is currently a Graham Innovation Scholar - an innovative entrepreneurial program. She also works in the Communications department as a video lab assistant. She is also the video equipment room manager. Vivian made her acting debut on campus Fall of 2016. During Fall of 2018, she was grateful to take the stage again as Nick Bottom in Shakespeare's "A Midsummer Night's Dream."
She is thrilled to be able to devote time to both of her passions. Another passion Vivian has is interpersonal communication. She has always been a very empathetic person, and well oriented with teamwork. She came from an innovative, teamwork-oriented high school eager to grow her skills. The Graham Innovation Scholars program, and now the University Innovation Fellows program have allowed Vivian to strenthen her interpersonal skills while working on very important topics.
If Vivian isn't in the video lab or the theatre, she spends her time reading, being an amateur comedienne, and spending time with her dog.
Contact:
Email- vferris@ycp.edu
LinkedIn- https://www.linkedin.com/in/vivian-ferris-9410a7121
Website- http://vferris.wixsite.com/portfolio
---
---