Fellow:Vincentsius Herlambang Pandji Pradipto
Jump to navigation
Jump to search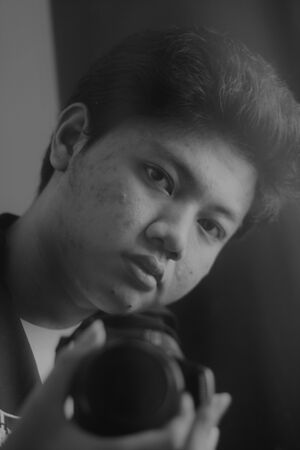 Name

Vincentsius Herlambang Pandji Pradipto

School (Cohort)

Institut Teknologi Harapan Bangsa (2021 cohort)

Majoring in

Information System

Country

Indonesia

Email
Bio
"When we are young, we spend it lazy, then old people will also be lazy and don't feel like they will die tomorrow, but if we study a lot and analyze a lot then when they get old, they win." – Bacharuddin Jusuf Habibie.
Hello my name Vincentsius Herlambang Pandji Pradipto, I'm from Institut Teknologi Harapan Bangsa Bandung, Indonesia. I'm the person that never giveup in any challenge. Why? because I have a mindset that every step will determine the future, so if we give up at the beginning then we will lose the opportunity.
As said by Indonesia first President Mr. Ir Soekarno "Whoever wants pearls, must dare to plunge into the deep ocean."
This means that we as students who are still struggling with our fate and future, never give up on the circumstances. because we have to be brave to take risks whatever the consequences.
And i have a dream too helping a SME Industry, because SME industry especially in Indonesia have a really lot of a problem, but they can't solve their problem, because they have a lot of limitations especially money or assets.
I remember the quotes from Indonesia first PresidentsIr. Soekarno "Hang your ideals as high as the sky! Dream as high as the sky. If you fall, you will fall among the stars."
I always remember this quotes, because we must have a big dream. Even though we are pessimistic we can't do that dream, but we will be known by many people.
Until this day I has make some innovation that maybe helping the country to develop the business of selling fresh fish, one of which is the "selayar" project which is currently being converted into "Belanja Ikan". This project about This project is about how fishermen can sell their merchandise directly to consumers, without having to go through middlemen. On this project, we planned all the foundation. from the Supply Chain Managements, then from IT infrastructure, and anything else. And until now, Belanja Ikan has been Recognized by the government as an Indonesian startup company. On this day, i have a new project called Manajerku. Manajerku is apps that i was made when i'm joined Google Bangkit 2021, this apps will help SME industry to planning and manage their Resource. because on this day ERP apps (likely Odoo, And SAP, etc.) really expensive especially for SME industry that have a lot limitations. That's Why I Create this project to help them Planning their resource.
Achievements
Create startup called Selayar (Belanja Ikan)
Semifinals in Startup competition (Klinyokar)
Semifinals in Binus ISCC
Create application called Manajerku
Graduate from Google Bangkit 2021
Social media profiles
Linkedin
https://www.linkedin.com/in/vincentsius
Instagram
https://www.instagram.com/herlambang078/
---
---