Fellow:Thomas Ken Ronaldi
Jump to navigation
Jump to search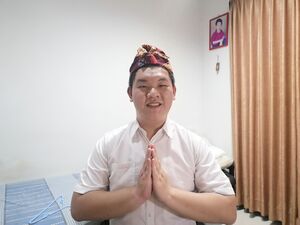 Name

Thomas Ken Ronaldi

Birth of Date

21st June 2000

School (Cohort)

Institut Teknologi Harapan Bangsa (2021 cohort)

Majoring in

Electrical Engineering

Country

Indonesia

Email

rx8ronaldi.ken@gmail.com
Bio
"I can accept failure, everyone fails at something. But I can't accept not trying." - Michael Jordan
Introduction
Thomas Ken Ronaldi, a boy who was born in Bandung, West Java Indonesia is an active and passionate person. Living in a big city doesn't make me feel in comfort zone. I try to my own story and realize my own dream for my future. My family are well educated person. Although they only finished their graduated education, they keep inspiring me with their experiences both in education and professional environment.
Big Dreams was Stopped!
My dreams start when I loved automotive industry. My childhood life was close to car and automotive. At that time, I didn't understand the engine, handling, or acceleration. I just knew this car was cool, this car was beautiful. Then I know about engine, handling, and acceleration in my High School Life. Then, I wanted to learn more about them in Mechanical Engineering Major. So, I learned for the test but it couldn't be achieved because I failed in my test. But I found this campus and it woke me up. I learn not only about Electrical Engineering, but also a lesson in life I've never had before.
Rise Up and Create New Dreams
From that moment, I interested in Machine Learning in 2020. At first, I had Introduction to Machine Learning and Artificial Intelligence course in my campus. I thought it was amazing when I created a machine learning model for helping problems in society. I decided to get more information about Machine Learning and joining Google Bangkit 2021 Machine Learning Path program, an academy lead by Google in collaboration with Gojek, Tokopedia, and Traveloka. Shortly, I graduated in June 2021 after long journey in Bangkit.
Not only graduated from Bangkit, Me and my team also achieved Top 15 Capstone Project in Bangkit. We created a Realtime Indonesian Sign Language Translation Application called BACARA. This application offers offers a novel solution, in the form of a mobile app that can interpret sign language using AI, and convert it to text and speech, so hearing friends no longer face challenges when they want to communicate with deaf/mute friends. We had a vision to remove communication barrier with deaf/mute friends with normal people, deaf/mute friends are still part of us an we can't deny them. This Project was funded by Google and Education Ministry of Indonesia Ministry of Education in total US $10000.
Contact Me
Last but not least, I am one of the University Innovation Fellows represent from Indonesia. Feel free to meet and discuss from other background Fellows. Differences make us whole.
Achievements
Google Bangkit 2021 Graduates: Completed several courses and certification simulation, Completed several soft skills training, Attend all instructor-led sessions, and Completed Capstone Project.
Awarded Scholarships for two semesters from Indonesian Ministry of Education Research and Technology (Kementerian Riset, Teknologi dan Pendidikan Tinggi) in 2019 due to Academic Performance.
Social media profiles
Instagram: Thomas Ken Ronaldi
Facebook: Thomas Ken Ronaldi
LinkedIn: Thomas Ken Ronaldi
---
---