Fellow:Tej Praveen Ayyaji P
Jump to navigation
Jump to search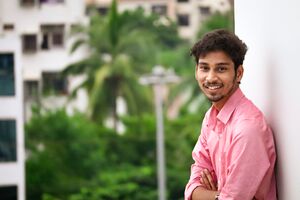 Tej Praveen Ayyaji would be very happy if this could be written with a Pencil. Anyway, he is a University Innovation Fellow from Fall 2019 and a college student from India. With the fast-changing technological world, he pulled himself into the computer space and currently pursuing his bachelors in Computer Science.

Despite being a good student at his college, he believes that the ranks achieved and percentage scored would be of no use. He always stands on one point, i.e., a very profound change in the whole system can be brought initiating it from an individual.

He stood first in almost all the events at his school, be it in drawing, writing, karate, singing and one more to mention, Stand up comedy. He's super-duper-hyper-active, and he never settles for one thing.

He's passionate about story writing and direction. His word about the stories he writes is, "Every Story You Write Must Be Yours, I repeat, Yours." Okay, to be specific, he wakes up in the morning just like there are cameras set to his eyes and looks everything with a 70 mm cinematic scope lens. He's an amateur photographer. He has his own production house, AISHA Productions.

Apart from all this, he's keenly looking forward to bring a change in the persisting society and the educational system which brings no progress to an individual's growth.

Tej Praveen loves Nude Art. Oh, wow, that's nice, isn't? Just give him a pencil, and see what wonders he can do.. Sketching, shading, writing, scripting, and yeah, sharpens it often.

Contact: tejpraveen.patamsetti@gmail.com
(I know I can do the same with a pen. But, I love Pencils)

Related Links
Fellows: Tej Praveen, Meghana, Vinisha, Gautami
Aditya Engineering College Student Priorities
---
---