Fellow:Teddy Stratis
Jump to navigation
Jump to search
Teddy was trained as a University Innovation Fellow at Fordham University and attended the Eastern Hempishere meetup in April 2018. Teddy is an undergraduate student majoring in Business Administration, with a concentration in Entrepreneurship and a minor in Visual Arts. Teddy was born in New Jersey; however, he spent the majority of his adolescence living in the Netherlands. His experience abroad has heavily influenced his perception and professional outlook. When he returned to the United States, he saw his parents' start their own businesses; which made him want to follow in their footsteps with the hopes that one day he will start a company of his own.
Since the age of 15, Teddy has been involved in Social Media and Customer Service, where he was able to use his creative ability to bring in customers and positively impact brand awareness. He further followed his passions by getting involved in a start-up company and taking on an internship at a Commercial Real Estate company. Teddy has always challenged himself and has been passionate about giving back to society. He has done so by getting involved in community service when he was a director at a charter school and his contributions to the Ecuadorean Civic Committee of New Jersey. In all of his endeavors, Teddy has leveraged his creativity and demonstrated talent in Graphic Design.

Impact
By the end of training, Fordham Fellows decided to focus on bringing Design Thinking to the broader Fordham community to foster more innovative problem-solving and inspire Fordham students to think outside of the box about issues that matter to them in their everyday lives.
The Fordham Fellows taught over 16 hours of class time to over 600 students at the Gabelli School of Business. The end goal of their workshop was to to gain feedback from the freshman student body in order to find a permanent place for Design Thinking in the core curriculum and recruit the 2019 fellows. It was important to expose students as earlier on as possinle so students would be able to better engage with innovation on campus and master the skills needed for day-to-day creative problem-solving in the real world.
From the workshop, the Fordham Fellows learned that students valued having the workshop be student-led, the hands on experience, and were able to understand the benefits and applications. With the succcess of the workshop, the Fordham Fellows were able to spark the conversation of changing the business core cirriculum to include Design Thinking.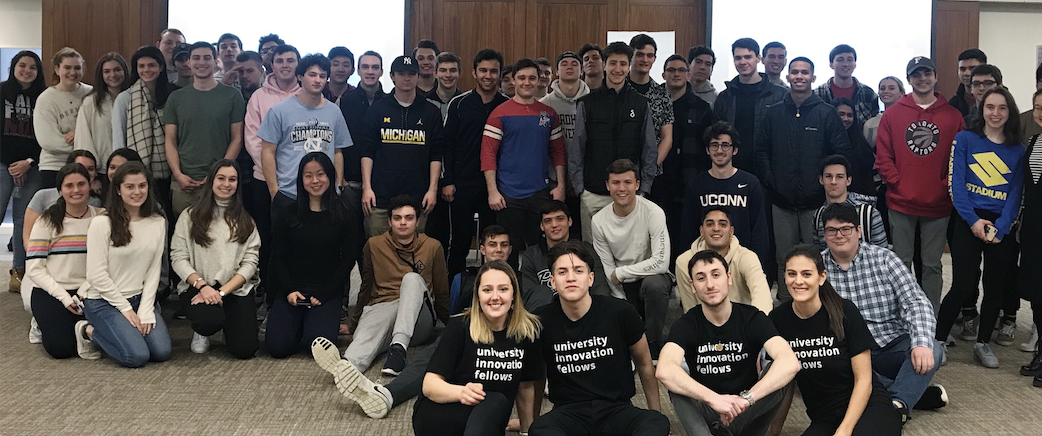 Contact
Phone: (201) 819-2579
Email: tstratis@fordham.edu 

Related Links
Fordham University Student Priorities
Other 2018 Fellows
(left to right)
---
---