Fellow:Taylor Hendricks
Jump to navigation
Jump to search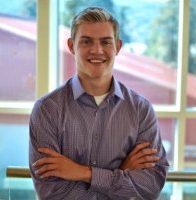 ~ University of Portland, Oregon ~
          Taylor Hendricks is an Entrepreneurship & Innovation major with a minor in Sustainability at the University of Portland, Oregon. He believes strongly that translucency and ethical business will be the deciding factor in determining the future of the global economy. "Sustainability," Taylor explains, "is often abused and misinterpreted-- To be sustainable is to work conscientiously with the natural patterns of our planet, respecting our natural limitations, and understanding that the most cost effective resource is the one not used."
          On campus, Taylor is involved in the Entrepreneurial Scholars Program, which teaches a well-rounded business mindset with hands-on experience. They're responsible for maintaining mentor relationships with local business leaders relevant to their fields and are given the opportunity for both domestic (New York) and international travel to practice global business. Taylor chose Sweden as his international destination because they are pioneering sustainable initiatives within their society in many different industries.
          Currently, Taylor's passion lies in renewable energy and thinking creatively in order to establish cleaner, smarter alternatives to power the modern world. On the side, he really enjoys art & design, music production, and celebrating the beautiful outdoors with the people he loves.
~ Related Links ~
Final Pitch Video: https://www.youtube.com/watch?v=M3z6lCbK5vc
University of Portland Wiki Page: http://universityinnovation.org/wiki/University_of_Portland
University of Portland Student Priorities: http://universityinnovation.org/wiki/University_of_Portland_Student_Priorities
[[Category:Student Contributors]]
---
---