School:University of Portland
Jump to navigation
Jump to search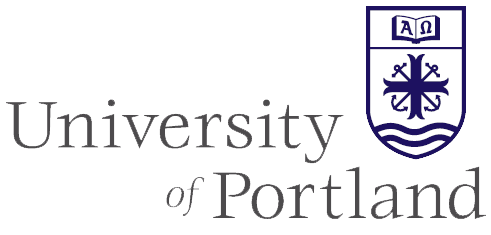 Student Innovation and Entrepreneurship Resources
"At the University of Portland we are promoting Entrepreneurship and Innovation through a variety of different programs and extracurricular activities."
Overall Ecosystem
The University of Portland is developing an innovation ecosystem that includes multi-disciplinary programs and experiential learning spaces such as the Pilot Space, the ThinkTank Innovation Lab, and the Digital Lab. These opportunities promote collaborative experimentation, prepare graduates for 21st century careers, engage students in identifying innovative solutions to social and community problems, and contribute to shaping Oregon's growing innovation culture.
E-Scholars
There is an Entrepreneurial Scholars Program, which is comprised of a competitively selected group of undergraduate students and teaches the fundamental skillsets of developing a business model, pairs students with a local mentor related to their field, and offers domestic and international travel opportunities to learn about conducting business in diverse markets. Students are responsible for creating a new business venture or social enterprise, as well as implement innovative products and delivery models for these organizations. Every year we also hold a 100k Competition, where students are able to pitch their ideas and ventures to a group of investors for the possibility of receiving funds to support full-scale launch. Students also travel to Colorado for a national elevator pitch competition.
Digital Lab
The Clark Library Digital Lab provides current University of Portland students with the space, equipment, software and support to produce audio, video, photography and design research projects. The lab is a self-service facility staffed with student assistants and a coordinator able to assist users of all abilities.
Think Tank
We have constructed a brand new innovation think tank in the school of business where students can pursue their innovative ideas. It features large whiteboards, collaborative space and a large selection of materials for rapid prototyping.
Maker Space
The makerspace, known as the "Pilot Space," is a collaborative innovation space designed for students to independently design, prototype, and manufacture their creations. While the makerspace is critical to students in engineering, math, science, and technology (STEM), the new lab, which will open initially this fall to engineering students, will subsequently be available to students in all disciplines at the University. There they will have access to 3D printers, mini mills, a laser cutter, soldering stations, prototyping materials such as arduinos and raspberry PI kits, and other equipment necessary to create models of their solutions.
Technology Entrepneurship Certificate
The Technology Entrepreneurship Certificate combines theory and practice in an environment where academics are balanced with real world experience. Diverse cohorts are comprised of technology entrepreneurs from various fields and current students in Portland-area PhD, MBA, and JD programs. Over the course of a year, students will participate in and experience the entire spectrum of the commercialization process, starting with invention and product development, to technical and market feasibility analysis, through intellectual property acquisition and business planning, and culminating with venture funding and product launch.This highly regarded interdisciplinary program, jointly delivered by the University of Portland and Oregon Health & Science University, is designed for people with a passion for successfully turning ideas into ventures. It is particularly suited to those with backgrounds in science, engineering, or management and an interest in developing new business units from technology based intellectual property.
Letter to the President
A national letter from UP and other U.S. universities supporting the "Maker Movement" was sent to President Obama. The movement celebrates Americans who use new tools and techniques to launch businesses as well as those who learn vital skills in science, technology, engineering, and math.
Biomedical Masters Program
The University has just implimented a one year biomedical masters program. They are continuing to be innovative by looking at other masters programs such as implementing an entrepreneurial master's program.
Leadership Certification Program
We also have recently introduced the Leadership Certification Program, which is available to any student of any major that wishes to enhance their skills in working with teams, as well as how to direct others in an efficient and respectful way. This program was just recently implemented.
Dean's Innovation Challenge 
In order to further promote Innovation & Entrepreneurship at UP, we have recently launched the Dean's Innovation Challenge and attracted 8 interdisciplinary teams. This challenge was successful for a year but has since stopped and it now trying to be revitalized.  Additionally, The School of Engineering modified their core curriculum to allow students to take 9 semester credits of Entrepreneurship, Innovation, and/or business courses for academic credit.  This is just the beginning of the innovative revolution occurring on the University campus -- change is slow but expect more to come!!!
Franz Center for Leadership, Entrepreneurship and Innovation:

Entrepreneurial Scholars Program
Leadership Certification Program
Encouraging Faculty Innovation and Entrepreneurship
Qualities that are becoming more important to the Deans in hiring staff members is a innovative willingness and nature. While innovation is encouraged all over campus, there is not a strong connection between students and professors for implementation. The process of innovation is slowly becoming more prevelant at the University of Portland. Steering committee comprised of faculty from all 5 schools in the University created to develop and lead innovation programs.  Professors are becoming more aware of opportunities to become innovative themselves as well as to get students more involved. 
Actively Supporting the University Technology Transfer Function
The University's tech transfer policy is currently being reviewed and revised, in order to make it more friendly to student and faculty start-ups and industry partnerships.
Facilitating University-Industry Collaboration
Senior Engineering teams are able to work on projects from the local business community, both start-ups and larger firms. The entrepreneurship/innovation advisory board at the University is made up of entrepreneurial and innovation firm management. The E-Scholars program also allows for students to be pared with mentors from the community to refine their ideas and help make it happen.
Engaging with Regional and Local Economic Development Efforts
Staff and faculty regularly are engaged with Portland Development Commission, OHSU ED, Business Oregon (State) and have collaborated on several studies and reports.  Student involvement in these activities is anticipated to begin next year. The MECOP program is also growing at the University in order to split engineers senior year into two years and add in two 6 month internships with local companies. 
Related Links
University of Portland Student Priorities
Current Fellows (Spring 2018)
University of Portland Student Priorities
Current Fellows (Spring 2018)

Past Fellows (Pre-2018)
---
---