Fellow:Syed Junaid
Jump to navigation
Jump to search
syed Mohammed Junaid Ahmed is from India .He is pursuing 2nd year B.tech on stream Elecronic and Communication Engeeniring in Audisankara Institute of technology , Andhra Pradesh. His schooling JournY is from diffrent parts of India .He experiences different education systems in India .He grown up wid mixed mindset .He belongs to a middle class family .Now is in Nellore . Due to engaging to diffrent places he has lagre Friendship circle .
He is passionate and creative from childhood . He follows his own ideas and try to succeed in it .His hobbies  are painting , sports , music .He got recognised and got medal for painting in his schooling . He has Good communication skills , by which he can attract anyone and convay others his thoughts . Since from his Schooling he took part extracurricular activities and got recognised many times .He beleaves More in practical learning so he thinks practically . Due to his leadership qualities he enageges and come forward in any task .His Friends are more attached and motivated by him .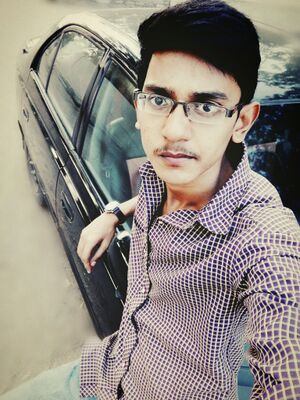 He is an Eclectronist . Though he is In his 2nd year he is working on Projects  .He Work on a project with his own idea .He finds solution in technical way . Recently he took a step forward he is becoming an Entrepreneur by his own project which he made by his team . He is in limelight where he Goes .He has leadership qualities so he lead team .His main Quality is Learning , and he educate share his thoughts with his peers . He is enthusiastic .He is planning to do M.S in abroad so he his building steps to reach his goal Actually it is his Fathers dream bbut belonging to middle class family he is putting forward his hardwork and try to reach his Goal .
 His attains a positive attitude . He is humble he strongly believes that" being humble we can reach to any goal ".
((catagory:Student Contributors))
---
---