Priorities:Audisankara Institute of Technology Student Priorities
Jump to navigation
Jump to search
STRATEGY 1:
Lack of student interaction
Now a days students have no idea about real time demands in the Industries and companies which is leading to unawareness of their goals. As a result of this students will face several problems in future and they also loose their self confidence.
·   Brain Storming
As most of the students have less idea about what they are learning and they also unaware of how to implement the concept they are being thought by the faculty champion. To overcome this problem the initiative to students can be provided the overview on the real time demands by conducting Brain storming classes. These classes should be implemented from starting stage onwards, which motivates the students towards their goals and also helps developing soft skills which are enhanced by referring and presenting symposiums. The students can get better influence by seeing others who took initiation to launch student organisations. These brainstorming classes should be kept in progress.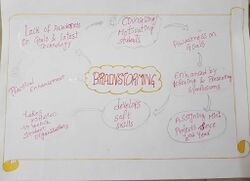 STRATEGY 2:
Deteriorated Practical Implementation
Now a days most of the students are focusing on their results rather than getting an command over the subject.
Practical Enhancements
Practical implementations can be conducted in different ways like industrial visits which is used to know about the real time demands, practical enhancement. Due to this the student will get interpersonal skills. By concentrating on projects students will get both practical and as well as theoretical knowledge which makes him to become more talented. In practical implementation the main thing we can conduct is projectors which saves time, gives ability to share notes digitally at the end of the classes, it reduces the incorrect (or) irrelevant notes. By conducting all these the students will start to thinking in different manner.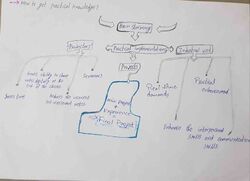 STRATEGY 3:
Less Focus on I&E
App Designing & Grading System
Bringing the innovative ideas to students by enhancing their ideas by grading systems and an app Designed to improve students practical knowledge .The app includes all the students login and their particular stream specification ,college ,Updates, Feedback, Flash news about the events or any information to be known by students can be highlighted. And Assignments to be completed by students on weekly basis and by encouraging them with grading system.
http://universityinnovation.org/extensions/WYSIWYG/ckeditor/skins/kama/images/noimage.png?t=B49E5BQ
STRATEGY 4:
Prohibiting the usage of mobiles
·  Digital College
with the usage of mobiles in the students can stay up to date with the updates by accessing the data of the innovative app which was mentioned above. It provides a platform for surfing the students enormous doubts. Misuse of mobile phones can be reduced by Video Surveillance.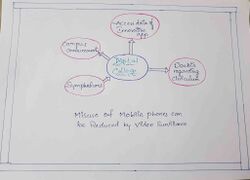 STRATEGY 5:
College Timings
Engineering is not related to studies it also includes extracurricular activities such as Singing, Fashion Designing, Musician etc..
College Flexibility
 Flexibility has allowed for unexpected positive outcomes that exceeded our expectation. Sometimes it is better to adjust the way you utilize resources rather than simply throwing more at the problems.
Some of the problems finded in our college by college flexibility are timings, conducting clubs and dream .
As all of us are spending much time at college from morning to evening.So, there is no time to reach or practice their own dreams at out of the college. The timings at college should be changed. And their no practical implementation. As to learn the subject,we have to implement the practical method than theoritical. So,there should be of technical demos everyday and it should be done at college timing only. They should conduct some of the seminars, symposiums to cheer up the students and the students itself have to organise and they have to participate actively at the events.
By conducting clubs all students can increase their leadership qualities and they can get awareness. The club's are not only related to subjects they can be as sports,music and photographic clubs. These are useful for developing their communication skills and to get awareness among the residents and students. The club's are the platforms for students to improve their managerial skills and their personality.
Every student has a dream to achieve great things.The first step is to keep a dream and to believe in it. And we have to refer the dream and have to get the information and updates,have to get knowledge about ours dream.We have to make a plan of it by taking classes and have to make a work on it as making short term tasks and to do it on time.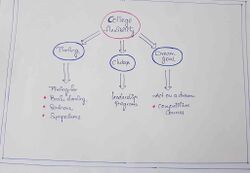 ---
---