Fellow:Sofia Frumkin
Jump to navigation
Jump to search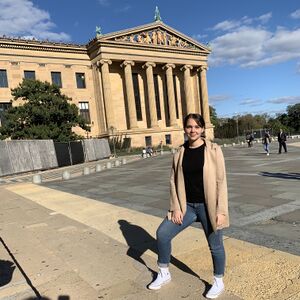 Name

Sofia Frumkin

School (Cohort)

Swarthmore College (2021 cohort)

Majoring in

Political Science

Country

United States of America

Email
Bio
Sofia Frumkin is a junior at Swarthmore College where she majors in Political Science with minors in English and Environmental Studies. She was born and raised in Chicago, Illinois, and still holds a strong connection to her community there.
Sofia currently works as a design intern for the Swarthmore Center for Innovation and Leadership in conjunction with the University Innovation Fellows program, and looks forward to learning more about the design process and its importance in entrepreneurship.
In the past year, Sofia has also written for the Swarthmore Phoenix newsletter, and you can find some of her articles on the newsletter's website here. She is passionate about communication, and began writing in 2020 due to her interest in helping to uphold communication across a student body that was spread out around the world due to the COVID-19 pandemic. She hopes to explore the application of design thinking towards efficient and equal communication, especially for college communities.
Sofia works to promote inclusivity and acceptance of LGBTQ students on campus, as the treasurer for the board of the Swarthmore Queer Union. She previously served as the board Chair of Advertising, where she learned how to design advertising materials and promote important events and projects. She looks forward to continuing her work for acceptance and inclusivity in the future.
Social media profiles
https://www.linkedin.com/in/sofia-frumkin-348926203?trk=people-guest_people_search-card
Related Links
Priorities:Swarthmore College Student Priorities

2021 Swarthmore University Innovation Fellows
---
---