Fellow:Ipeknaz Icten
Jump to navigation
Jump to search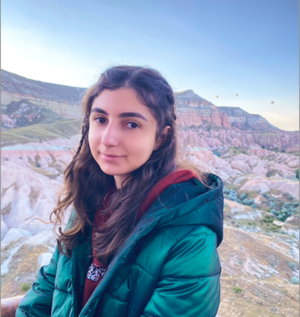 Name

Ipeknaz Icten

School (Cohort)

Swarthmore College (2021 cohort)

Majoring in

Biology & Computer Science

Country

Turkey

Email
Bio
Ipeknaz Icten is a sophomore at Swarthmore College, planning to double major in computer science and biology. She was born and raised in Istanbul, Turkey.
Ipek recently discovered her passion for computer science, when she took her first coding class over the Spring 2021 semester. Although she was intimidated by her lack of knowledge at first, she started to truly enjoy the course and coding as a whole through encouraging interactions with the professors and peer teaching assistants. This year she is working as a teaching assistant for the same course to help new students feel welcome in CS no matter their previous experiences. Ipek is also working as a design intern for the Center for Innovation and Leadership at Swarthmore to learn more about design thinking through the UIF program and apply its principles to better the Swarthmore community.
Ipek is involved in biology research on campus, where she uses computational methods to study the interplay between evolution and development. She hopes to further her knowledge and experience in computational biology and biotechnology to apply it to biomedical research in the future.
In her free time Ipek likes to sing in the Swarthmore College choir, read, travel and sail. She is truly excited to be able to travel again (with masks) after nearly a year of COVID lockdown in Istanbul.
Achievements
Undergraduate Research Assistant - Swarthmore College Biology Department
Teaching Assistant - Swarthmore College Computer Science Department
University Innovation Fellow - 2021
The CRC Press Freshman Chemistry Achievement Award
Social media profiles
Facebook: Ipeknaz Icten
LinkedIn: linkedin.com/in/ipeknaz-icten-a36462201
Related Links
School: Swarthmore College
Priorities: Swarthmore College Student Priorities

2021 Swarthmore University Innovation Fellows
Fellow: Jackie Le
Fellow: Shirley Liu
Fellow: Sofia Frumkin
---
---