This site will go under maintenance from 25-11-2020 to 30-11-2020. It might not reachable during the maintenance period.
Fellow:Sharmada Kommabathula
Jump to navigation
Jump to search
Sharmada Kommabathula  is a University Innovation Fellow and an undergraduate student studying Computer Science And Engineering at Godavari Institute Of Engineering And Technology (GIET). She was interested about the coding subjects since she couldn't control her interest for it she took in the nuts and bolts of C language,in her tenth board she decided for the subject java and she learned it as well. After her twelfth standard she needed to consider software engineering, she would not like to live separated from her family and henceforth she chose to get an affirmation in GIET.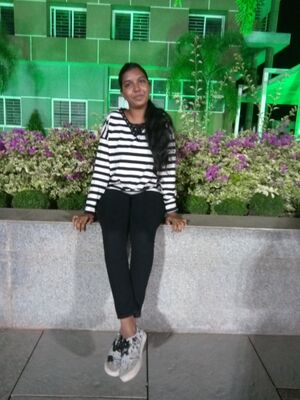 At GIET she was more intrigued by gathering exchanges, discusses, social exercises and her class assignments. She constantly offset her scholastics with her additional round exercises. She additionally accepted each open door to persuade her companions with the goal that they won't be contemplative people for eternity. She knew about UIF program at GIET.
The design  thinking hit her in the head  during the training session and she utilized it to take care of any issue in the constant .When she was experiencing the training she understood how huge students can be the change-makers. She generally took the positive vibe from everything and everybody. She always believes  in- "RUN RUN RUN AGAIN IT'S OKAY TO FALL!!! "
Related links:
LinkedIn:
https://www.linkedin.com/in/sharmada-kommabathula-a2b47216b
Gmail:
FaceBook ID:
Sharmada Kommabathula
CAMPUS RELATED LINKS:
SPRING-2017


---
---