Fellow:Sandesh Singh
Jump to navigation
Jump to search


Serving as UIF since : Spring 2017
School : Ajay kumar Garg Engg. College
What does he aspires : Live the life of Billions !!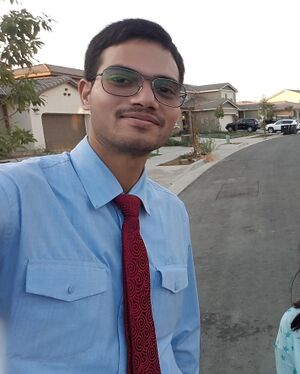 What  he does now :  Learns Peoples and Cultures
What it means : Analysing the new arriving and generating aspects of the world to gain a wide-spectrum goal furnished with a mission like career  
Background : Know how Machines are made (Bachelors degree in Electrical and small expe. In Robotics )
Can contribute to you : As a friend to discuss your issues and connect you to others like you and me
Email : sandeshsingh5688668@gmail.com
Phone : +91 7065210482
He believes that technology transfer and experience sharing between cultures leads to self-propulsed innovation, consequently cracking of solutions to a large number of regional problems. This belief leads to his desire for " Innovation at Global Level". With this mindset at university level, He joined University Innovation Fellows Program.
His faith towards engineering as problem-solving skill encourages him to adopt multi-domain engineering knowledge including basic Mechanical and Computer Science, Electrical & Electronics being the major. This directs him towards Robotics & Automation domain, already got an opportunity to be a part of a Robotics Team for three years. These three complete-years provided him an opportunity to blossom his team-work spirit.
His degree course and  professional skills when amalgamated with his outlook makes him a potential change maker.
Future Aspirations : His engineering degree in Electrical and Electronics domain with his professional skills in Robotics and Automation Sector finds the best utilization of it in serving to an institution working for people and cultures and letting a way-out to equal opportunities and resources to all people from different parts of the world.


Related Links

My Leadership Circle :  Shashank Singh    Rohit Jatana  Ayush Agarwal  Vijayant Saini
---
---