Fellow:Sami Glass
Jump to navigation
Jump to search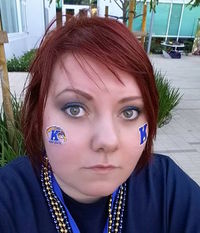 Sami Glass is a Computer Science student at Kent State University. She currently attends a satellite campus called Kent State Stark. Sami is an officer in the Computer Club at Stark campus and a member of a computer club called Hacksu on Kent campus. She is the Google student Ambassador for Kent State University, helping connect students with resources and opportunities at Google.
Current Projects
Sami co-leads a student organization called HacKSU at Kent state, where they teach coding skills and different technologies to students of all majors and backgrounds. She also organizes Kent State's annual Hackathon called Kent Hack Enough, where students from all over come to create tech projects to present at the end of the weekend for prizes. 
Sami also mentors the Kent Girl Coders, a middle/high school coding club at Stanton Middle school. Promoting women in computing is an effort that is extremely important to her. She volunteers as an assistant webmaster for Ohio's Women in Computing, and will also give a talk at the 2017 meeting on promoting college students to start Girl Coding clubs. 
Academically Sami is conducting research on front-end development of an application for a virtual advising system for students that will help assist them on taking courses to meet goals and gain skills, instead of just taking courses to gain degrees. 
One of Sami's side projects is working with Learning Streams International, a water conservation and egology bootcamp for High school students. She assists with creating a web presence for the Bootcamp while also acting as a Near Peer Mentor. In Fall 2016 Sami presented an application for water conservation in Brazil at the Mission OneLife competition, gaining third place with her team's "SenseUrWater" application. 
Less Important things...
Sami's hobbies include drawing, watching cooking shows, reading (Like the Social awareness books, comedy, weird books? Mostly non-fiction), and Netflix (Who doesn't like Netflix?) In her free time she enjoys her Xbox, and MMORPGs (basically online games). She also enjoys creating/coding profiles for online communities.
Related Links
Kent State University Strategic Priorities
University Innovation Fellows:
Spring 2016
Fall 2015:
Samantha Glass
Spring 2015:
Matthew Allen
Fall 2014: Robin Bonatesta