Fellow:Roman Cook
Jump to navigation
Jump to search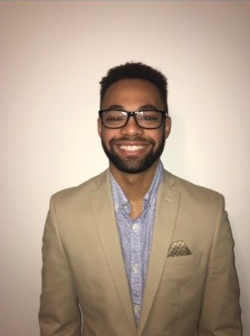 I'm Roman Cook, a senior engineering major at James Madison University (JMU). Along with my major, I am pursuing minors in Robotics and Mathematics. I enjoy actively participating in initiatives that promote innovation and collaboration on and around our campus. As such, I have taken up the role of president for the National Society of Black Engineers chapter of JMU and have become a University Innovation Fellow (UIF).
From a young age, I realized that I enjoy tinkering and improving mechanical and electrical systems. Arising from these natural proclivities, I chose to pursue engineering during my collegiate journey. One of the most rewarding projects that I've participated in is the Collegiate Wind Competition. Not only has this project given me the opportunity to build a small-scale wind turbine, it has also allowed me to learn a great deal about engineering and how to work within cross-disciplinary teams.
Early on in our training, my UIF cohort decided to embrace the theme of promoting cultural competency on our campus. Following this theme, we aim to create initiatives that provide students with opportunities to collaborate in new ways and with new communities. Doing so will allow students to generate innovative solutions and obtain new understandings of perspectives that were once foreign.

---
---