Fellow:Rogutica
Jump to navigation
Jump to search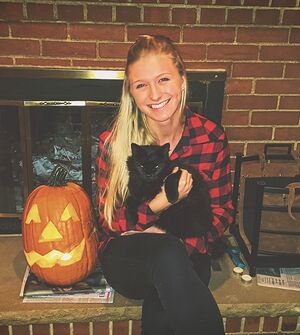 Allison Rogutich is in her 5th year at Grand Valley State University, studying Computer and Biomedical Engineering through the Articulated M.S.E Program. She also experienced her liberal education through the Honor's College, and is finishing her last season as a Track & Field athlete, competing in the triple jump (GO LAKERS!). 
    While working through the engineering program, she has been completing multiple co-ops at Stryker Instruments. At Stryker, she has worked primarily in R&D, but also has experience in the Advanced Quality Engineering Department. Last year, she was introduced to Design Thinking by attending a meeting organized by the first team of UIF fellows at GV. Since her passion is for medical technology, she felt that the empathetic nature of Design Thinking aligned well with her, and she was intrigued to pursue it further. 
    Given the opportunity this year to become a University Innovations Fellow, Allison hopes to get more involved with and improve the I&E landscape alongside her other fellows at Grand Valley. She always likes to challnge herself, and is excited to see some changes around campus. 
Related Links
---
---