Fellow:Riana Khan
Jump to navigation
Jump to search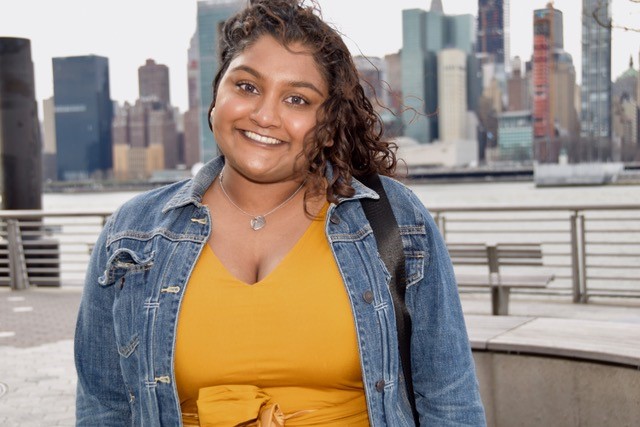 Riana Khan is an undergraduate at Iona College, Class of 2022, studying Business Marketing and Entrepreneurship. She is from Long Island, New York and has made Iona her home away from home. 
In 2017, James Hynes '69, '01H, and his wife Anne Marie Hynes donated $15 million to the College to create the Hynes Institute for Entrepreneurship and Innovation. In 2018 the official Hynes Institute home was constructed as a coworking space  in the center of campus. Riana was introduced to the University Innovation Fellows program and the world of entrepreneurship and innovation thanks to the Hynes Institute. 
At Iona College, Riana is the Chief Photo Editor of the Iona's student-run newspaper -The Ionian, a member of Iona College's Chapter of The National Society of Leadership and Success, an intern at the Hynes institute where she has been able to leverage her entrepreneurial mindset in everything she is involved in and is the VP of marketing of the Collegiate Entrepreneurs Organization at Iona guiding the next generation of entrepreneurs, innovators, hustlers and go-getters. 
Outside of school, Riana is a  passionate photographer. This hobby and lifestyle grew from the amazement of being able to hold a special moment that would last forever. Through photography, Riana is able to impact others through the stories an image can tell. Her love for photography encourages her on a daily basis to establish new ideas, develop her thoughts, and collaborate with others. She aspires to have her photos evoke laughter, compassion, empathy and hope. 
Riana believes that having an entrepreneurial mindset is needed, especially in the world we live in today. By interpreting real world problems we are able to think of creative and efficient ways to execute solutions. Riana encourage others to build on their confidence, develop their own ideas and come up with creative ways to better our world through their passions just like she  has  been inspired to do.
---
---