Fellow:Raviteja
Jump to navigation
Jump to search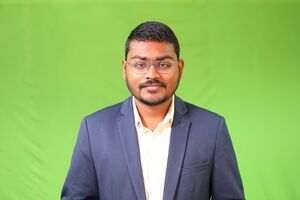 Jami Ravi Teja is an Entrepreneur who started a start-up based on Health, Wellness, Fitness. He named Start-up as "Cure House Innovative Solutions LLP". He acts as Chief Executive Officer & Founder of the Startup. The Startup deals with the all health oriented diagnosis, lab tests & Fitness guide the clients in order to meet their doctor consultation needs.
He is an University Innovation Fellow and pursued his B.TECH in "Aditya Institute of Technology and Management". He completed his schooling at Vidhatri Vidyalay" in the stream of SSC syllabus. He completed his inter(+2) in Sri Chaitanya Jr college of SSC syllabus. He pursued his B.TECH in the stream of "COMPUTER SCIENCE ENGINEERING(CSE)".From the beginning on wards he was most passionate about web development so chosen the stream of CSE. He plan to design a website which is useful to Rural Areas.
         He is the person actually very interested in attending meetings. He is very mostly interested in marketing the things. He did several workshops in college regarding virtual labs. He is the coordinator of the particular labs and guided several members how to access the virtual classes and how to do experiments and lto gain the knowledge from the classes. He is playing some major role in his college in SAC(Student Activity Center). He is going on attending the fest of the IIT's, NIT's and the near by colleges. He is very passionate to start a own startup to give jobs to several rural people who got educated. His hobbies are in free time listening music, playing carroms, talking with friends to plan something new trips.
    He after completing his training in University Innovation fellowship. He got an opportunity of doing an internship on gaming in SRM University, Amaravati. He accomplished with lot of knowledge from gaming. he got an certificate in the gaming that he completed an assessment in gaming and got approved by the Finland University -' Kaajani University'. He also awarded with 12 ECTS . If he wants to study MS in Finland then this credits will be taken into consideration. This is his first achievement after completed his training of UIF.
 He then after worked for some social things for the Women Empowerment Revolution Program an initiative called WERP- India. He started working as campus ambassador for one month. After seeing the work he was appointed as HR for the recruiting new interns. In that also he succeeded a lot and then by seeing the lot improvement in the area then he became the State Director of Andhra Pradesh in the women empowerment.
 He also acting as Vice President for E-Club(Entrepreneurship Club). There he works for the project approves which are innovative and which will be helpful in the future these are the responsibilities of him and that is linked with North Eastern University, Boston , U.S.A. and it was linked with APSSDC as Innovative 2 Entrepreneurship.
 He is now acting as Outreach Representative for College Diary a product based company. His role is to reach the clients and to pitch about the product. The Product contains of Student marks, Attendance, Fee Balance, Events list & Chat bot. This Chat bot is used to have interaction between the Faculty and Students.
 He also done an intern as Digital Marketing Executive for a company KRV Guru, Hyderabad. His responsibilities are to increase SEO Ranking, Social Media Marketing, Content Management System, Email Marketing and meeting clients and telling about the company providing aspects of needy.
---
---