School:Aditya Institute of Technology & Management
Jump to navigation
Jump to search
ADITYA INSTITUTE OF TECHNOLOGY & MANAGEMENT
OVERVIEW:
Aditya Institute of Technology and Management was established in 2001. It is popularly known as AITAM college in the people view. This is permanently affiliated to JNTUK and It is Premium Autonomous Engineering College. It is approved by AICTE,NAAC-UGC & NBA.
LOCATION:
The AITAM is situated in an eco-frinedly area of 50 acres with thick greenery at Chakipalli kothuru, Tekkali Mandal, Srikakulam District, Andhra Pradesh. The college is 45.6 KM away from Srikakulam Railway Station on Kurdah-Road to Vishakapatnam line in East Coast Railway. The College is 46.5 KM away from Srikakulam.
The college has totally six blocks apart from one boys hostel and one girls hostel buildings. The particulars of academic buildings and the departments/ offices accomadated are as follows. The college proudly offers 6 UG programs and PG program in MBA and 6 disciplines of M.Tech with 18 years of rich standing in the educational era. Besides this, the college has added many feathers in its cap which includes Times Engineering 2019 ranking, AITAM stood in 80th rank all over India, 66th rank among private engineering colleges and 6th rank in Andhra Pradesh.It is one among four engineering colleges out of 343 in Andhra Pradesh with NAAC 'A+' grade. These districts recognitions speak volumes of the institute's objective to promote engineering excellence. The total student strength is 4500 with faculty strength of  480 thus giving rise to healthy faculty student ratio.
AFFILIATIONS:
It is approved by AICTE, recognized by Govt. of Andhra Pradesh, permanently affliated to Jawaharlal Nehru Technological University Kakinada (JNTUK). It is accredited by NBA(National Board Of Accredition) and by NAAC(National Assessment And Accreadtion Council) with "A+" grade which is recognised by UGC under section 2(f) & 12(B). AITAM became a TEQIP-Funded institiution in Andhra Pradesh. It is recognised by Scientific & Industrial Research Organisation(SIRO).
WHAT SPECIAL ABOUT AITAM:
   =>  INNOVATION PEDAGOGY.
   =>  AICTE LOCAL CHAPTER AS AUTONOMOUS STATUS.
   =>  ROBOTICS CLUB FOR STUDENTS INNOVATION.
   => INCUBATION CENTER FOR STUDENTS RECREATION .  
   =>  APSSDC SKILLS DEVELOPMENT LABS FOR INTERESTED STUDENTS.
   =>  HOLDING GOOD PLACEMENT RECORD.
   =>  SIEMEN'S LABORATORY WITH FULL EQUIPMENT.
   =>  LOCAL INDUSTRIAL COLLABORATION.
   =>  AUTOMOBILE DESIGNING CLUB FOR MECHANICAL.
   =>  SPACIOUS & DIGITALISED LIBRARY WITH ONLINE SUBSCRIPTION.
   =>  FREE INTERNET ACCESS THROUGHOUT THE CAMPUS.
   =>  ORGANISES VARIOUS WORKSHOPS REGULARLY.
   =>  STUDENT'S GUIDANCE CELL & ENTREPRENEURSHIP DEVELOPMENT CELL.
   =>  GRE,TOEFL & GATE COACHING PROVIDED.
   =>  HAVING WELL EQUIPPED LABORATORIES .
   =>  MOU's WITH NATIONAL & INTERNATIONAL COMPANIES.
   => MEDIA AND MUSIC CLUB.
   => NODAL CENTER FOR VIRTUAL LABS ORGANIZED BY MHRDC, Govt of India.
   => CM CENTER FOR EXCELLENCE.
   => MSME TOOL ROOM FOR STARTUPS.
   => EDII(ENTREPRENUERSHIP DEVELOPMENT INSTITUTE OF INDIA) PROVIDED WORKSPACE.
   => QEEE ROOM ENABLED FOR ENTREPRENUERSHIP SUMMITS,WEBINARS AND CONFERENCES.
STUDENT INNOVATION AND ENTREPRENEURSHIP:
Corporate partners interested in student innovation and entrepreneurship get a first look at leading innovations, as well as exposure to other organizations connected to the national entrepreneurial ecosystem. Students across campus are involved in entrepreneurial activities and India's vast entrepreneurship and innovation network provides a wide range of resources and support to the students. Students actively participated in various innovation fields.Students utilised every opportunity to showcase their innovative skills and to develop their skills in their interested columns.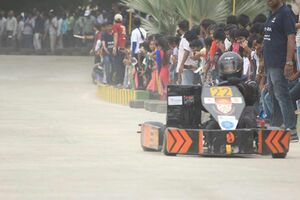 Aitam go cart racing team bagged 1 st place in the pro-skating race in ANDHRA PRADESH. It is now participating in go carting event held by IMAGINE TO INNOVATE hosted by Raghu Engineering College,Visakhapatnam.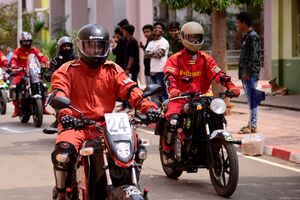 AITAM hosted an event for IMAGINE TO INNOVATE for Asian E-bike championship which was held in the campus where 25 colleges have participated from all over INDIA. AITAM secured 4th place and got the best bike designing prize with certification.
FACULTY INNOVATION AND ENTREPRENEURSHIP:
AITAM Faculty team continuously put their full effort to bring out the innovation and make students as a successfull entrepreneurs in this contemporary world. 
Faculty Role
UC Faculty members report to the Dean, and participate in the growth and development of the University. Faculty members will be engaged in teaching in the undergraduate students for the General Education program, involved in: student engagement & success, student retention activities, enhancing the teaching & learning environment and committed to college & university service.
FACULTY REQUIREMENTS:
Industrial experience in field of Innovation & Entrepreneurship highly preferable.
A record of outstanding achievement in higher education and scholarship in teaching.
Successful university teaching experience, relevant to the academic rank.
Interest in research area related to teaching and learning.
Experience in working with people from different ethnic backgrounds.
Excellent communication skills, a commitment to the importance of student engagement & success, innovative thinking, and an understanding of the role of the university in student's development for future work environment.
Familiarity with the new teaching methods, visual communication and the need to equip students with the varied skills they must have to succeed in an ever-changing environment.
UNIVERSITY-INDUSTRY COLLABORATION:
The European Centre for Mechatronics, in association with the German Centre of Management Studies, set up a mechatronics laboratory in Aditya Institute of Technology and Management, Tekkali campus.
MoU signed: 
AITAM Director V.V. Nageswar Rao announced this on Sunday, after a memorandum of understanding (MoU) was signed in this regard at a function organised in Frankfurt of Germany. Mr.Nageswara Rao and Managing Director of Mechatronics Christoph Greb and president of German Centre of Management Studies, V.V. Nagaraju exchanged the MoU papers. Mr. Nageswara Rao said that the establishment of lab and an incubation centre would enabled to the students of AITAM to take part in special training, internships and  project works in Germany where hundreds of reputed automobile companies were located.
Aitam students got the golden opportunity to experience the mechatronics laboratories and can visit german technologies and can join in their companies . And also students experience the different environment and understood innovation technologies.
REGIONAL AND LOCAL ECONOMIC DEVELOPMENT EFFORTS: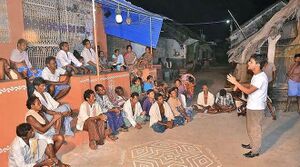 'Leadership Foundation pioneered smart village revolution initiative with the objective of developing the villages from the grass roots level so that the all-round development of the people and the villages takes place. The initiative delves deep into the habits of the people and tries to change them for a good cause. The Leadership Foundation aims to spread its mission across the State targeting to develop 100 villages.
Mission - To spread awareness among the villagers about the necessity of development and help them attain sustainable development.
Vision - To develop villages to boost the economy of the country in the field of agriculture.
NSS unit was established with an objective to cultivate the attitude of social service in minds of students and to make them responsible citizens.
"THIS CLEARLY SHOWS THAT AITAM IS ONE OF THE PRESTIGIOUS INSTITUTION WHICH HAS TAKEN THE RESPONSIBILITY TO DEVELOP THE REGIONAL VILLAGES WHICH INDIRECTLY BENEFITS TO THE WORLD DEVELOPMENT."
Related Links:
2018 Spring Team Members: Raviteja, Amruthabaratam, Muralikrishna, Venkyuppada,
2018 Fall Team Members:PAVAN_KUMAR_GANDI, Bonta_abhinay_karteek, Boddepalli_jeevan_kumar,
                                     Tejaswi_kottakota, Sai_teja_thuta, Donka_Yamuna, Tulugu_Bhagya_Sree
2019 Fall Team Members: Sai_Krishna_Sastry_Kumara , Meghana_Sakalabhaktula , Pathivada_Rajesh , Vyshnavi_Bhamidi
Student Priorities: Aditya_Institute_of_Technology_&_Management_Student_Priorities
College Pitch Video:https://www.youtube.com/watch?v=UoNgnQJ5mV0 , https://youtu.be/wtaFpFGus5E , 
---
---