Fellow:Raneem Elsayed
Jump to navigation
Jump to search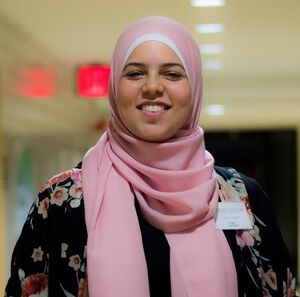 Raneem is a University Innovation Fellow and an undergraduate student studying History and Political Science at the City College of New York (CCNY). Raneem is very involved on campus and has known to dabble in many areas of study and activities. This allowed Raneem to gain valuable knowledge, participate in great opportunities, and create memorable experiences while at the City College of New York.
As a student at the City College of New York Raneem has been able to get involved in many things. She has been in the Undergraduate Student Government(USG) as a senator three years and the secretary for one year. She has also been a delegate for the University Student Senate(USS) for two years and the secretary for one year. She has worked for the Office of Student Life and Leadership Development(OSLLD) as well as the Office of Student Success(OSS). She has also held many positions for some of the student clubs on campus. She is working with the Zahn Innovation Center, the incubator, makerspace, and hub for entrepreneurship and innovation on campus, on many of their programs. The most important thing she achieved from being involved in so many things is the experiences she was able to have as a student. As a USG senator, she have been able to go to meetings with the president of the college as well as other administrators. As an employee of the OSLLD, she was an integral part of planning school spirit events. While working for the OSS, she was able to provide help to the students and see results on the spot. Being a student leader, there are many things Raneem wants to fix on her campus in order to make CCNY a better experience for her peers and new students. As a university innovation fellow Raneem wants to help students land their dream job and lead their best lives through implementing innovation on campus.
For most of her life, Raneem has believed in giving back and helping others. Wherever Raneem went she sought after more opportunities to give back. It wasn't until she was having a conversation with her professor who said "I'm all for giving back, but what's in it for you," that Raneem realized something very important. Her realization was that there are not many people that give back without expecting something in return. The University Innovation Fellows have proved themselves to be selfless people who are passionate about helping their peers and institutions. This is the environment Raneem wants to be in when she is changing the world for the generations to come.
Related Links
City College of New York Student Priorities
2016 Fall Cohort
2017 Fall Cohort
Raneem_Elsayed
---
---