This site will go under maintenance from 25-11-2020 to 30-11-2020. It might not reachable during the maintenance period.
Fellow:Ramya Davuluri
Jump to navigation
Jump to search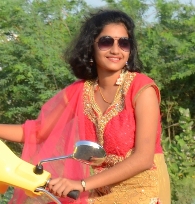 RAMYA DAVULURI is a University Innovation Fellow from India. She is pursuing her graduation in the stream of Computer Science and Engineering from QIS College of Engineering and Technology. She is so fascinate about innovation and always surfs for new things.
She indulges in every work assigned to her till it gets completed.She is a happy individual soul who never depends on anyone else expect her talent. She feels very responsible towards the society because she thinks "The great hope of society is in individual character".
PING ME : aramya1028@gmail.com
COLLEGE WEBSITE: http://www.qiscet.edu.in/
CSE DEPARTMENT WEBSITE :http://www.cseqiscet.com/
COLLEGE  WIKI :  QIS_College_of_Engineering_and_Technology
PITCH VIDEO : 
RAMYA_DAVULURI
---
---