Fellow:Rajnandini Waradi
Jump to navigation
Jump to search
Rajnandini Waradi is a University Innovation Fellow of spring 2018 and  an graduate  in Electronics and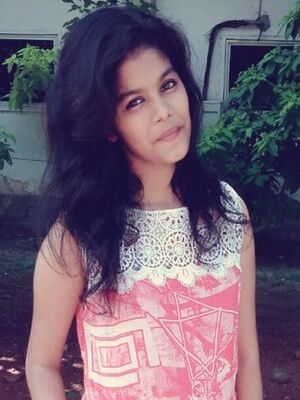 Communication Engineering in KAKINADA INSTITUTE OF ENGINEERING AND TECHNOLOGY.
Rajnandini Waradi is extremely passionate about leadership and entrepreneurship. She wants to make her innovative ideas to come true. At present she is working on one of her surreal ideas. She is very good at communicating with other and making them understand the situations. She is a very good motivator too. Not only to her peers but also to her family members she helps out  to solve their problems. She is good at encouraging others for innovative ideas. She feels that "if someone wants to achieve their goals and dreams come true they should not get discouraged for whatever the world says,if they feel it right they should go for it".
Apart from this Rajnandini Waradi is highly passionate about poetry,writing articles on life,love and dreams. She once got 1st prize in poetry competition in KRISHNAPUSHKARALU help at JNTUK a state wide competition. It was spontaneous poetry competition and she was given topic on AMARAVATHI. One of her passionate surreal is to become a famous poetry and article writer. She has multi tasking capability and confident enough to complete the tasks to complete.

PITCH VIDEO LINK:https://www.youtube.com/watch?v=p3BoH8WxyOo&feature=youtu.be
COLLEGE LANDCANVAS WIKI PAGE LINK:http://universityinnovation.org/wiki/Kakinada_Institute_of_Engineering_%26_Technology
STUDENT PRIORITIES WIKI PAGE LINK:http://universityinnovation.org/wiki/Kakinada_Institute_of_Engineering_%26_Technology_Student_Priorities
TEAM MEMBERS:
---
---