School:Kakinada Institute of Engineering & Technology
Jump to navigation
Jump to search
OVERVIEW

Located near KORANGI WILD LIFE SANCTUARY, KIET is one of the most prestigious colleges in the state. Since the inception in 2001, the mission of KAKINADA INSTITUTE OF ENGINEERING AND TECHNOLOGY(KIET) is to provide high quality education in varied disciplines of technical education. Within a short span of a decade it has steadily evolved into a world class institution recognised for its experiential learning methodologies and practical exposure. KIET GROUP has hired the most professional and passionate faculty to deliver knowledge and contextual applications in a vibrant learning environment.

THE FIVE PARAMETERS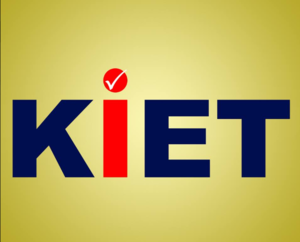 Promoting student innovation and entrepreneurship
For promoting students in the idea of innovation and entrepreneurship, our college @KIET established clubs and organisesmany events every year. Like,
SHA

STRA

ABHIYAAN

TOASTMASTERS CLUB

SARADHYA

WAVES

TARKA

SHIKHARA

IELTS CLUB

EDYST LEARNING PLATFORM

TCS CODE VITA

BOSSMOOL LABORATORY

EXTENDED LEARNING PLATFORMS

LEADERSHIP ACTIVITIES

RCEL(ROBOTICS CENTRE FOR ENHANCED LEARNING)

EYANTRA LABORATORY
SHASTRA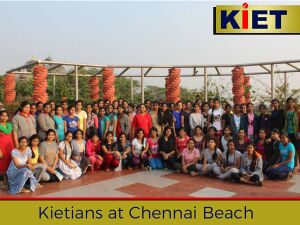 It is an event organised every year through which students are taken to IITs(Indian Institute Of Technology) for letting them acquire the practical and outer-world knowledge.

ABHIYAAN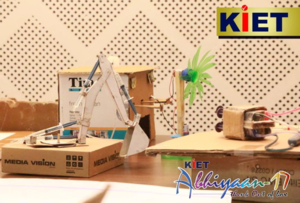 ABHIYAAN is the programme organised every year to make it easy for the first year students to get adopted to the new college environment. Basically it is a 21 day programme in which the students interact with new fellows of their class and it also helps them to interact with the faculty members. The main motto of this programme is to develop interaction among freshers, eliminate their stage fear less by coordinating different competitions, to make them understand about the college, to develop new ideas and share them with their friends. The ABHIYAAN CHAMPION is presented with a LAPTOP which will help him/her evolve in numerous ways. It is the first stepping stone for them towards designing things innovatively by making them think and act creatively.
TOASTMASTERS CLUB
It is where "leaders are born".
This club runs on various leadership skills along with communication projects which are designed to help people learn the very arts of speaking, thinking, and listening. There are number of active members from this club who are exploring international toastmasters clubs around the globe. There are few official toastmasters from the club. This "KIET TOASTMASTERS CLUB" was formed by few students and it is being run successfully as there are number of students contributing their active participation every year. Master Orator Championship(MOC) is a contest organised every year by toastmasters international, and one of our KIETIANS stood as the champion and won the trophy.
SARADHYA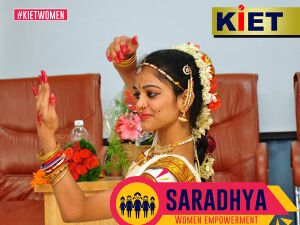 SARADHYA is an women empowerment event organised by the students to bring out all the women to the platform where they can expose their inate talents. This event is organised for only women by inviting every possible woman to the event. This initiative is taken to help the girl students explore themselves and meet professionals from various fields. Apart from all these things, women are given special privilege in our college. They are always encouraged to acquire all possible opportunities.
WAVES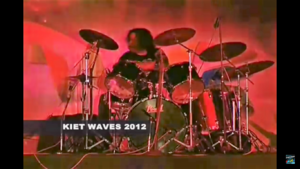 This is a fest organised once in an year. It is a technical fest. Students with new technical ideas and prototypes are provided with handful of chances to expose their ideas to the chief guests of this fest. Here, students are given opportunity to interact with the chief guests and improve their ideas which will further lead them workout their ideas practically.
TARKA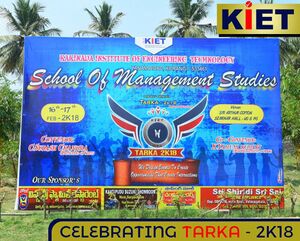 TARKA–2K18 is the management meet organized by KIETIANS from the department of MBA. It endeavors to enhance the entrepreneurial and managerial skills of the students and offers a platform for learning to everyone. TARKA helps to interact with students of different colleges. Many contests are organised in this event to high-up the spirits in students. This event is designed especially to create opportunities that leads to improve interaction among people.
SHIKHARA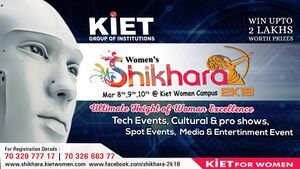 SHIKHARA is a technical fest organised in our college. It includes technical events, culturals shows, pro shows, sport events, and media & ent
ertainment events. Many contests were coordinated and registrations were spotted from various colleges. This fest is entirely org
anised by women to reveal the ultimate strength of women power.
IELTS CLUB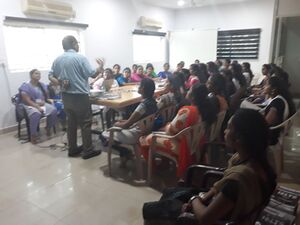 IELTS CLUB provides materials and advice to students who wish to take the IELTS speaking test, listening test, and other things which are involved in it. It allows the students to test themselves in the complete range of English language skills that they usually encounter when studying or training in the medium of English. It is a space which gathers all the students who aspires to top in IELTS examination.
EDYST LEARNING PLATFORM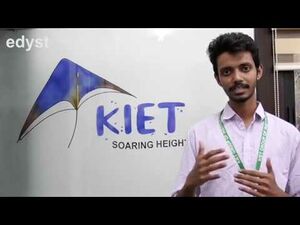 A team of dreamers & doers!
KIET has a tie-up with EDYST LEARNING PLATFORM which is an online learning destination for aspiring software developers to get ready for the most in demand job. The 
solutions from this platform aim to make students learn the most in-demand technical skills needed by the industry, keep them immersed and addicted to the learning process and connect them to the prospective employers. The team at Edyst consists of talents from IIIT-Hyd Alumni and experienced industry professionals, who are passionate about changing the way higher education and hiring is done.
TCS CODE VITA is a coding contest conducted by TCS CAMPUS COMMUNE TEAM, in which every year KIETIANS are encouraged to participate. KIETIANS are trained on different aspects of coding before approaching this contest. Many KIETIANS got selected and hired through this contest.
BOSSMOOL is a joint work of IIT Madras and CDAC, Chennai. First
of its kind outside the IIT-Madras, started in KIET. BOSS(Bharat Operating Systems Solutions)-MOOL(Minimalistic Object Oriented Linux) aims at redesigning the Linus kernel to reduce coupling and increase maintainability by means of OO(Object Oriented) abstractions. This laboratory certainly inspired many of the students in and around KIET to lead a passionate life of a building the indigenous OS.
EXTENDED LEARNING PLATFORMS
These are the platforms at KIET for teachers to learn and share their great heap of knowledge. They serve students to learn everything on a single portal. They allow clubs to share their knowledge with the student. They provide a start to teach every student digitally. KIETIANS are made to go through the latest technologies through E-Learning Platforms.
At KIET, for first year students some LEADERSHIP ACTIVITIES are held like letting students give seminars on any subject topic, and conducting JAM sessions, quiz competitions, and memory games among students to keep-up their competitive spirits and keep them mentally strong. These are conducted in alternative days in a week to let them enhance their leadership skills and sharpen their minds day-by-day.
RCEL(ROBOTICS CENTRE FOR ENHANCED LEARNING)

The Robotics Centre for Enhanced Learning at KIET was installed with the motto of imparting knowledge which is beyond the curriculum. Academicians at KIET do believe that the curriculum alone wouldn't give the students adequate strength to survive the competitive world. And also such Innovative fields aren't nurtured to the wards. The scope of work is rapidly transforming and the trends of market do require latest technologies and such a course is Robotics. It acts like an Incubation Hub for the students to grow vertically and create innovative projects in the field of Robotics. It also organises HACKATHONS for exposing students skills.
KIET is one of the few institutions in India that has this "Embedded Systems & Robotics Lab". It is an initiative by IIT-Bombay that aims to create the next generation embedded system engineers with a practical outlook to help provide practical solutions to some of the real world problems.
Encouraging faculty innovation and entrepreneurship
ALUMNI CONNECT
FDP(FACULTY DEVELOPMENT PROGRAMME)
EXTERNSHIPS
ALUMNI CONNECT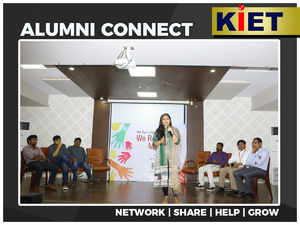 Faculty members plays a key role in motivating the students who are interested in various fields of innovation and developing practical ideas. For this reason our college @KIET conducts ALUMNI CONNECT so that the alumni will share their experiences with students and give them good guidelines which may help them to gain success in different fields.
FDP(FACULTY DEVELOPMENT PROGRAMME)
In KIET, FDP(FACULTY DEVELOPMENT PROGRAMME) is organised in the presence of PROF.M L SAI KUMAR. The major focus of the FDP(FACULTY DEVELOPMENT PROGRAMME) is upgrading the teaching, training, and research skills of faculty, especially those who have not had an opportunity to acquaint themselves with recent developments in teaching and research methods. The program enables participants to develop competency in recent developments and technologies.
KIET GROUP is one of the few REMOTE CENTERS under the initiative "TEACH 10,000 TEACHERS", initiated by DR.D B PATHAK. The program aims at developing faculty and teaching profession with its FDPs(FACULTY DEVELOPMENT PROGRAMS) by staff from IIT-Bombay, IIT-Kharagpur, and IIT-Madras.
EXTERNSHIPS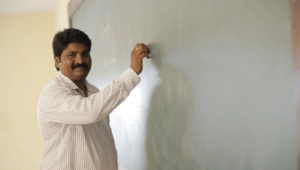 At KIET, faculty members will be going on externships to different colleges, companies, and workshops to enlarge their network and acquire new skills in their respective fields. They meet faculty members and students of other colleges and exchange their works and ideas. They work on new technologies and buildup capability skills through this externships.
Actively supporting the university technology transfer function
GRADUATION DAY
INDUSTRIAL VISITS(IVs)
FRESHERS, FESTS, & FAREWELL PARTIES
WORKSHOPS

GRADUATION DAY
GRADUATION DAY is organised at KIET which brings together all the alumni, students, faculty members, stakeholders, and the very dignitaries at one place. Its a day of joy and pleasure on which all the graduates of our college are honoured. Its a great opportunity to meet alumni and know their views and thoughts on outer-world.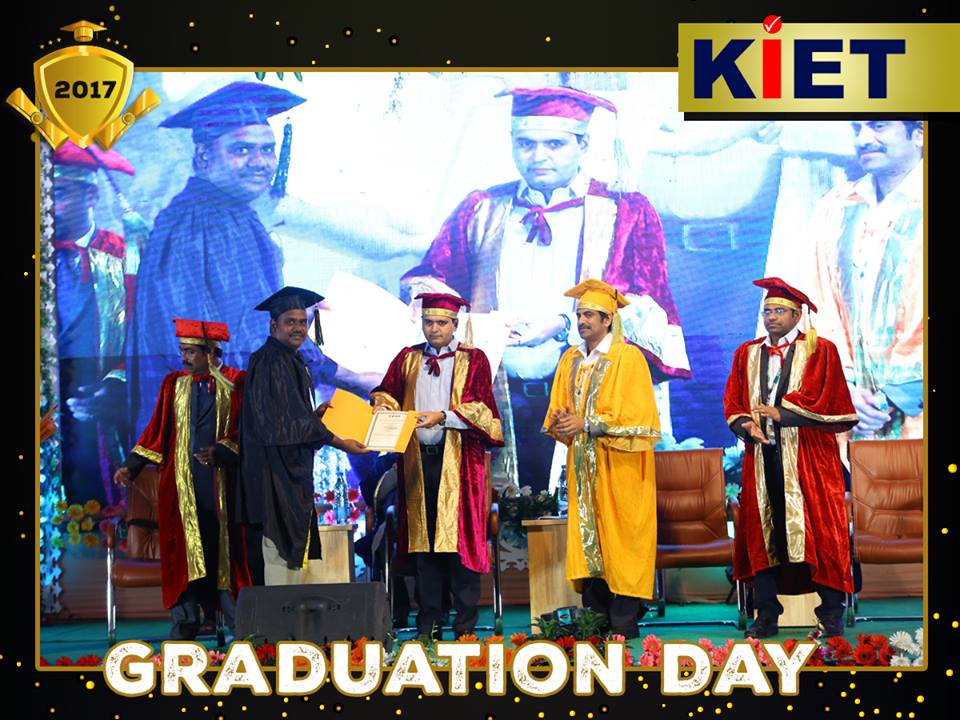 INDUSTRIAL VISITS(IVs)
KIETIANS will be going on INDUSTRIAL VISITS(IVs) to various IT companies and Industries to gain hands-on experience. The Computer Science & Engineering Department students went to MIRACLE SOFTWARE SOLUTIONS to acquire practical knowledge on how things work and how workplace environment functions. They were into real time work experience with the help of staff at company. 
FRESHERS, FESTS, & FAREWELL PARTIES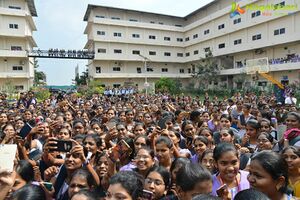 KIET organises FRESHERS, FESTS, & FAREWELL PARTIES to let KIETIANS experience the real essence of learning things in a refreshing environment. Interaction and Networking among students and between students and faculty gradually enhances through these meetups. Every department will have their own events respecting to their fields. These things provide many number of opportunities for students to expose their skills.
WORKSHOPS
In KIET, many workshops are organised for students as well as faculty members to enhance their skills in respective fields. Workshops are held basing on Android Things, Website Technology, Blockchain Architecture, IOT(Internet Of Things), SCI Lab, Microsoft Certification Courses so far. They help KIETIANS evolve in many fields and grab knowledge on latest technologies.
Facilitating university-industry collaboration
FACULTY SUPPORT
IGDC(INDIAN GAME DEVELOPMENT CHALLENGE)
STARTUP IDEAS

FACULTY SUPPORT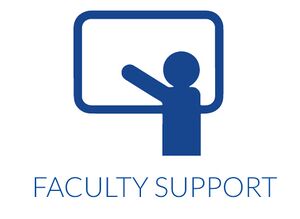 As we all know that in any institution, faculty always plays the key role for the exposure of industries to the students. In our college @KIET faculty never takes back step to let students explore the outer-world. They believe that for a brighter future of student, he/she must be aware of every possible thing.They build good relationship between university and industry for the welfare of students.
IGDC(INDIAN GAME DEVELOPMENT CHALLENGE)
IGDC(INDIAN GAME DEVELOPMENT CHALLENGE) is a great platform for game developers. A GAMING CLUB is going to be established at KIET under IGDC(INDIAN GAME DEVELOPMENT CHALLENGE) knowledge. This lets students to collaborate with industry to expose their works. IGDC has provided real time learning atmosphere to KIETIANS. Our KIETIAN, pitching her gaming project review to NARA LOKESH, IT Minister of Andhra Pradesh, India.
STARTUP IDEAS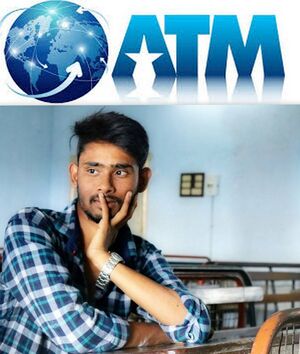 In KIET, students are provided with utmost freedom to expose their skill set through innovative STARTUP IDEAS. Mr.Pathuri Prakash, a 4th year student from Computer Science & Engineering Department has a brilliant startup idea. He wants to develop a money transaction application and link it up with banking services. This application will have all the features of existing money transaction applications but he wants to prove it as a unique design by adding some additional features. He named his startup idea as "ATM", which will be the name of the application he develops. Soon, he will have a tie-up with "QUE ENGINEERING SERVICES PRIVATE LIMITED" company to implement his startup idea and make it workout practically.
Engaging with regional and local economic development efforts
KIET INFO TECHNOLOGY SERVICES

NCC(NATIONAL CADET CORPS)

NSS(NATONAL SERVICE SCHEME)

SPORTS
BLOOD DONATION CAMPAIGNS

KIET INFO TECHNOLOGY SERVICES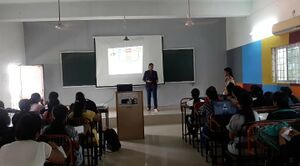 It is going to be started @kiet with a great inspiration to bring out the economical growth thus contributing to welfare and goodwill of everyone.
NCC(NATIONAL CADET CORPS)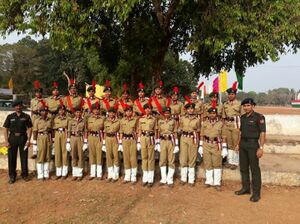 NCC(National Cadet Corps) 18(A) ARMY unit was started in 2010 at KIET Group. At present there are 100 cadets(50 Boys & 50 Girls) enrolled for Army Wing & 50 cadets(25 Boys & 25Girls) enrolled for Air Force. NCC(National Cadet Corps) is a Tri-Services Organization comprising the Army, Navy, and Air Force, engaged in grooming the youth–'The Leaders of Tomorrow'–into disciplined and patriotic citizens. NCC(National Cadet Corps) 9(A) Air Force unit was formed in the year 2011 at KIET Group under the group, 9 (A) Air Squadron(T) NCC(National Cadet Corps) having its headquarters at Kakinada. It was formed with an aim of grooming tomorrows pilots and Air Force Officers. Some of the words that drive these students are team work, punctuality, leadership qualities, discipline, sportsmanship, physical fitness, reliability, and patriotism.Also we have 3(A) Girls BN NCC where around (50) cadets enroll every year.
NSS(NATONAL SERVICE SCHEME)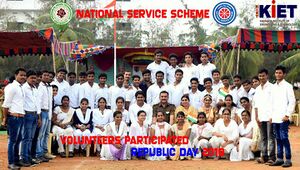 The NSS(NATONAL SERVICE SCHEME) Unit of KIET Group which was started in the year 2003 has more than 150 NSS student volunteers and 10 NSS(NATONAL SERVICE SCHEME) advisors as per University guidelines. As a student youth service programme, NSS(NATONAL SERVICE SCHEME) unit aims at arousing a social consciousness of the youth with an overall objective of personality development of the students through community service. Through this the college conducts 6 camps per year in the nearby villages to cater to the needs of the villagers and creating an awareness about the various social evils prevailing in the society.
SPORTS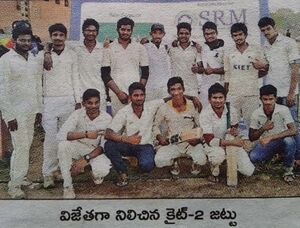 KIET has the provision of a large and spacious playground as well as facilities for indoor games. Students have a choice of sports which include Basket Ball, Volley Ball, Cricket, Wrestling etc. KIET has tied up for promoting Cricket by organizing Cricket Coaching Camps & Tournaments in association with East Godavari District Cricket Association. One of our KIETIANS won GOLD MEDAL in state-level Wrestling Competition.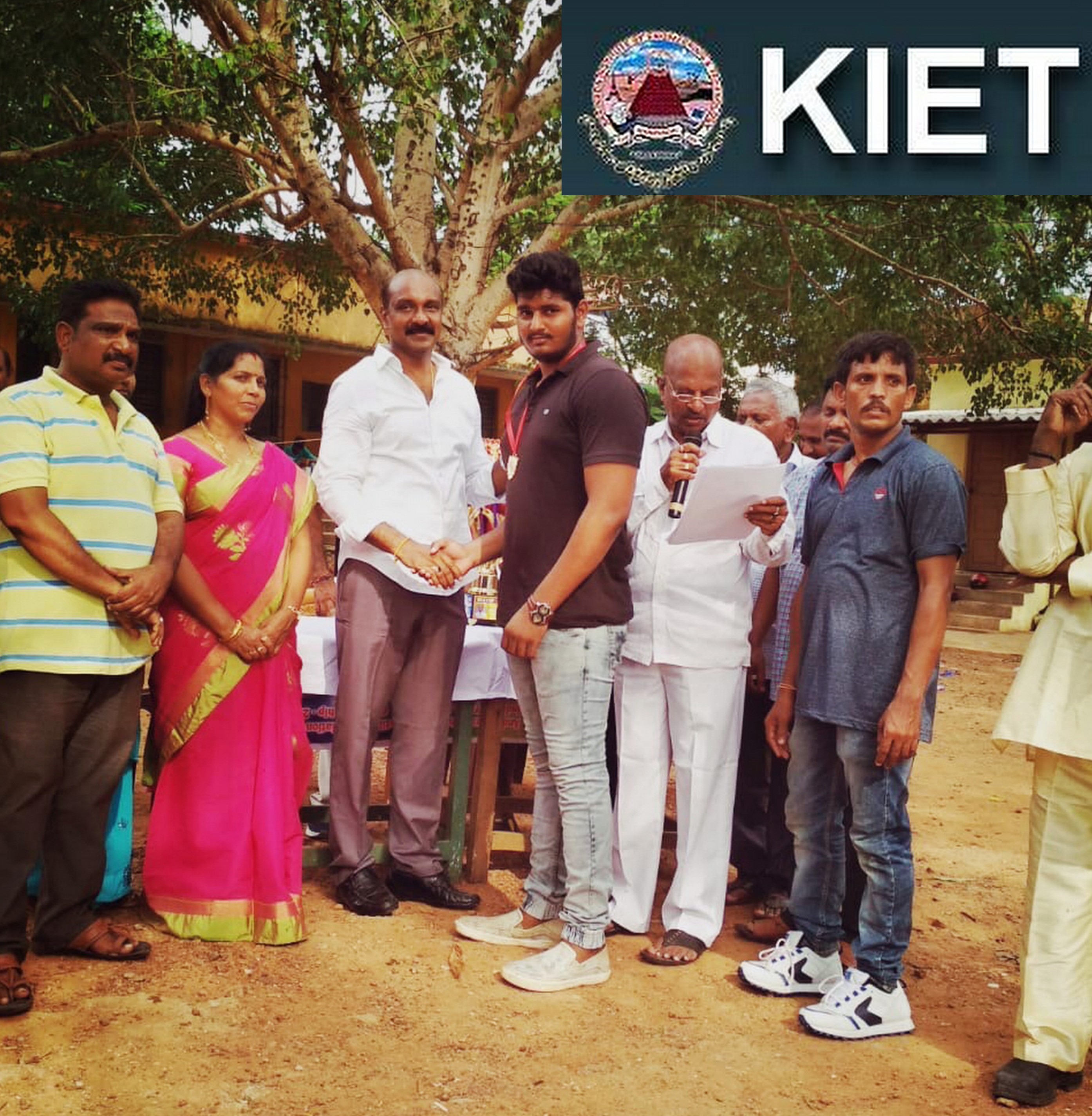 BLOOD DONATION CAMPAIGNS
BLOOD DONATION CAMPAIGNS are organised in KIET by NSS(NATONAL SERVICE SCHEME) students as a part of their services to society. All the KIETIANS participate in this campaigns to render their part of service to the needy. They are usually organised in SIR ARTHUR COTTON Seminar Hall @KIET.

Related Links
STUDENT PRIORITIES WIKI PAGE
http://universityinnovation.org/wiki/Kakinada_Institute_of_Engineering_%26_Technology_Student_Priorities
STUDENT PRIORITIES PROTOTYPING VIDEO
https://www.youtube.com/watch?v=zJ5Fg00Lj_w&t=1s
STAKEHOLDER MEETING VIDEO
https://www.youtube.com/watch?v=TPLkPbjK978
PITCH VIDEO
FALL-2018
https://www.youtube.com/watch?v=auU9ItOl2zQ
SPRING-2018 
https://www.youtube.com/watch?v=p3BoH8WxyOo&feature=youtu.be 
TEAM MEMBERS
FALL-2018:
SPRING-2018:
---
---