Fellow:Meghana Surampudi
Jump to navigation
Jump to search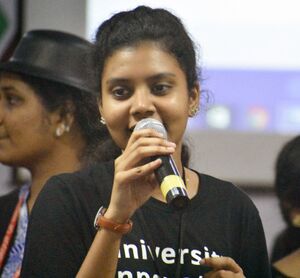 Serving as UIF since : Spring 2018
School : Kakinada Institute of Engineering and Technology
Contact her : To discuss and plan on Design Thinking Workshops.
email : meghanasurampudi@gmail.com
Meghana Surampudi earned  Bachelors in Computer Science Engineering at Kakinada Institute of Engineering and Technology, Kakinada. She designs the activities and presents  before officials, faculty and students. She inspired students and encouraged cooperation among the students. She has ethical standard and remained very honest and peaceful at all times. She is calm, responsible and sincere at her works and takes the task as a challenge, investigates and comes with a solution. She is also a passionate moderator and hosted many events in her college. She always works with people with different attitudes and mould them at work and always completes the task with good team work.
Her intense passion towards entrepreneurship dragged her towards the UIF program.
 As a University Innovation Fellow, promoted many clubs in her college and also lead KIET Innovation Fellows. She has the leadership qualities that took students along with her to make the program success. She maintained her humanity by being very loyal to faculty and co students ,acted as a bridge between Students and Management.
Using the skills and knowledge that she learned through University Innovation Fellows, Meghana organized and hosted several Design Thinking workshops. She organized a Mega Design Thinking workshop with non-teaching staff and other students for KIET. The workshop was a tremendous success that UIF team included a mention of that workshop and a photo in a book about UIF program which was published on Amazon. Meghana enjoys the vibrant and collaborative spirit of this community, and has enjoyed her part to help the space grow.
Meghana is also passionate about being a diplomat and preserving traditional culture in digital era, with this potent passion she acted as a delegate at Bali Asia International Model United Nations(Indonesia) and Asia Youth International Model United Nations(Malaysia).She represented QATAR in WHO council and took the opportunity of discussing key health issues of QATAR on international platform.

She is a public speaker and stood as a semifinalist for two times in Master Orator Championship( a hunt for the best orator in the circuit) which was organized by Toastmasters International and created a remarkable impression in all evaluators and participated hearts.
On top of everything, Meghana loves to travel especially to places rich in cultural heritage and adventure. Also, she likes to sketch in her leisure time.
TEAM MEMBERS:
---
---