Fellow:Meghana Surampudi
Jump to navigation
Jump to search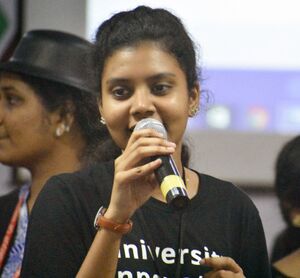 Serving as UIF since : Spring 2018
School : Kakinada Institute of Engineering and Technology
Contact her : To discuss and plan on Design Thinking Workshops.
email : meghanasurampudi@gmail.com
Meghana Surampudi was born and brought up in Andhra Pradesh. An engineer by degree, business development manager by profession and upcoming entrepreneur by passion, she's a vibrant enthusiastic young girl who has inspired thousands around her. A University Innovation Fellow of the 2018 cohort, she's been an active innovator spreading and implementing the concept of Design Thinking through workshops and live projects. She's also an eminent UI Guide who loves mentoring, being a guiding light for many aspiring students.
Her intense passion towards leadership & entrepreneurship dragged her towards the UIF program.
As a University Innovation Fellow, promoted many clubs in her college and also lead KIET Innovation Fellows. She has the leadership qualities that took students along with her to make the program success. As a change agent, she was able to uplift the lives of people to a better state of living. Keeping the vision as 'education is empowerment', she led a team of 20 student volunteers to empower rural kids about the importance of education, girl safety and also sex education. She and her team reached around 3000 students from 15 different schools.
Using the skills and knowledge that she learned through University Innovation Fellows, Meghana organized and hosted several Design Thinking workshops. She organized a Mega Design Thinking workshop with non-teaching staff and other students for KIET. The workshop was a tremendous success that UIF team included a mention of that workshop and a photo in a book about UIF program which was published on Amazon. Meghana enjoys the vibrant and collaborative spirit of this community, and has enjoyed her part to help the space grow.
Meghana is also passionate about being a diplomat and preserving traditional culture in digital era, with this potent passion she acted as a delegate at Bali Asia International Model United Nations(Indonesia) and got selected for Asia Youth International Model United Nations(Malaysia).She represented QATAR in WHO council and took the opportunity of discussing the highlights of the healthcare in QATAR on an international platform(BAIMUN).
She owns a unique signature of her own leaving footsteps for generations to follow. Breaking stereotypes and standing up for herself, she embraces life as it is. She truly believes in the values of empathy and compassion. A born leader! Striving for a better change to impact the society positively is her motto. Sincere, humble, firing with passion and dedication, her vitality in empathizing, debating, and problem-solving bagged many awards.  A few of them are Student Excellence 2018, Inspiring Student Leader of the Year 2019, Change Agent Award.
Meghana is a public speaker and stood as a semifinalist for two times in Master Orator Championship and created a remarkable impression in all evaluators and participated hearts. She is also a self made artist and poet too! She has worked as co-author for 3 anthologies.
On top of everything, Meghana loves to travel especially to places rich in cultural heritage and adventure.
TEAM MEMBERS:
---
---