Fellow:RJ Clark
Jump to navigation
Jump to search
RJ Clark is a University Innovation Fellow and a biomedical engineering graduate student at Wichita State University (WSU), pursuing an eventual career in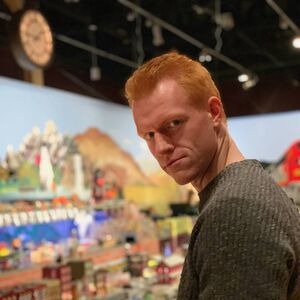 medicine. After obtaining his Bachelor of Science in Biomedical Engineering from Wichita State University, he decided to stick around for two more years to do research and get his M.S. degree before continuing on to medical school. RJ's interest in entrepreneurship and innovation was piqued during his final year of his undergraduate degree, during his Biomedical Engineering Capstone Design class. This was one of the pieces of the puzzle which finally led him to the University Innovation Fellows.
Sporting a myriad of interests, including but not limited to music, travel, language, food, puncraft, and pop-culture references, RJ been able to keep everyone guessing what will happen around him next. Unless it's a bad joke; the only thing uncertain about those is whether you will audibly groan or just roll your eyes. Seriously, it's a wonder so many people still hang out with this guy. But I digress. In his free time, RJ enjoys swimming, reading, playing piano, and telling his roommates he's going to swear off Netflix after just this one last episode.
If there is one thing that lights a fire in RJ it is travel. RJ studied in Hamburg, Germany for five months in 2016 and has been hooked on globetrotting ever since. He has now visited 15 countries outside the United States and made countless international friends and acquaintances. Multi-cultural collaborative projects are now particularly interesting to RJ as a result of his international experiences.
During the week RJ works in an emergency department at a local hospital, and on weekends he DJs weddings in the Wichita area and throughout southern Kansas. He finds it immensely gratifying that his work allows him to take part in helping people on what very well could be the worst days of their lives, then turn around and celebrate with others on one of the best days of their lives.
Related Links
Wichita State University
Wichita State University Student Priorities
Spring 2018 Fellows
Spring 2017 Fellows
Spring 2016 Fellows
Fall 2015 Fellows
---
---