Fellow:Priyanka Srivastava
Jump to navigation
Jump to search
Serving as a UIF Since: Fall 2016
School: CMR Institute of Technology
What she does now: Fab, Fellow and UIGuide
What that means: motivate, guide and lead passionate students and change agents, enabling them to establish innovation & entrepreneurship at their campuses. Passionate social worker.
Contact her about: DesignThinking workshops and events for individuals/corporates/schools; mentoring and guidance, projects related to innovation at campuses; collaboration;Leading and managing student clubs(Tech/non-Tech)
Email: srivastavapriyanka1608@gmail.com
Priyanka Srivastava is a University Innovation Fellow and an undergraduate studying Computer Science Engineering at the
C.M.R Institute of Technology
,Bangalore, India. She was born and brought up in Durgapur, West Bengal where she stayed till the year 2015. She did her schooling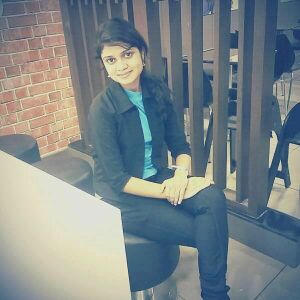 from Carmel Convent High school, Durgapur. She had completed  her Higher Secondary education from Hemsheela Model , Durgapur. After exploring her career path, she joined C.M.R Institute of Technology to pursue her Engineering degree and shifted to Bangalore, Karnataka. There she was exposed to the University Innovation Fellows .
Priyanka Srivastava also works as a member of an NGO named 'youth for seva(YFS)'. Since an early age she was interested to work for the society and help mankind. Her main motive behind taking engineering as her career is to use technology to change life of people for the betterment, to solve the problems of society using technology and creative thinking approach. She is also a social worker who works passionately for orphan education, women empowerment, child abuse and environment protection.She has actively launched and participated in many of these events in collaboration with other members of the YFS.She is currently working for setting up her own NGO on Mental health awareness and well being.
Priyanka has served as a Fab in Silicon Valley Meet-up 2018 and also in The Eastern Hemisphere Meet-up 2018.She has worked for several projects like pulse polio drives in slums of Siddapura,Bangalore,India, tree plantation drives in K.R Puram, Working as a scribe for  the physically challenged students, developing the website  'Shop,play,earn', and the Eye Check-up training camp 'Nanna Kannu' organised by the Sankara eye Hospital,centred on providing free eye check-ups to the financially weak students of Government schools.Priyanka is currently working for VMware and has won the 1st Annual Sustainability Award at VMware for her project on "Farmer Support System" - A project that is centred on helping the farmers in India so as to prevent farmer suicides.She has the passion of making a difference in the society. She is keen to bring an upliftment in the society. She is keen to support, guide and motivate all the students/professionals and individuals with innovation and entrepreneurship goals, to visualise their dreams and change their dreams into reality and ultimately bring about a change in the society.
Related Links:
C.M.R Institute of Technology: Campus Overview
C.M.R Institute of Technology: Student Priorities
C.M.R Institute of Technology: Landscape Canvas
UIF Fellows from CMR Institute of Technology:
---
---