Fellow:Prasanna Mala Chelamkuri
Jump to navigation
Jump to search
          Prasanna Mala Chelamkuri is a University Innovation Fellow and an undergraduate student studying computer science and engineering at Kakinada institute of engineering and technology (KIET).she was born in Kakinada and bought up at prathipadu (Andhra Pradesh, India), she is the youngest daughter of  Rama Krishna and Surya jyothi.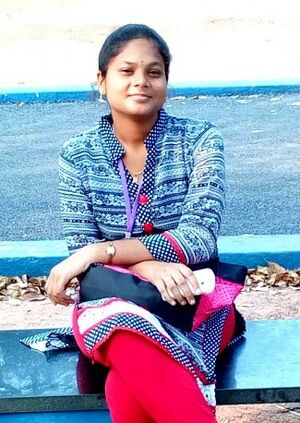 Prasanna completed her schoolings at Minerva English Medium School, Prathipadu and intermediate at Sri Chaitanya Junior college, Kakinada. Prasanna is a kind of  girl who always tries to explore herself, she always have her active participation in any event conducted by  the  college, her passions are travelling in search of new things, experimenting, public speaking, giving power point presentations.
Her experimenting nature made her to be a part of many activities like NCC (Nation Cadet Corps), BOSSMOOL (Bharat Operating System Solutions – Minimalistic Object Oriented Linux), ISP(Internshala Student Partner)also she won few medals and memento in debate, science fair, power point presentations, postal presentation and won as a best cadet award in NCC and successfully completed her internship at IIT,Madras.Finally she always believe "WE SHOULD  NOT GIVE UP AND  WE  SHOULD  NOT ALLOW THE  PROBLEM  TO  DEFEAT  US".
Related Links
CAMPUS LANDSCAPE CANVAS WIKI PAGE
http://universityinnovation.org/wiki/Kakinada_Institute_of_Engineering_%26_Technology
STUDENT PRIORITIES WIKI PAGE
http://universityinnovation.org/wiki/Kakinada_Institute_of_Engineering_%26_Technology_Student_Priorities
STUDENT PRIORITIES PROTOTYPING VIDEO
https://www.youtube.com/watch?v=zJ5Fg00Lj_w&t=1s
STAKEHOLDER MEETING VIDEO
https://www.youtube.com/watch?v=TPLkPbjK978
PITCH VIDEO
FALL-2018
https://www.youtube.com/watch?v=auU9ItOl2zQ
SPRING-2018 
https://www.youtube.com/watch?v=p3BoH8WxyOo&feature=youtu.be 
TEAM MEMBERS
FALL-2018:
SPRING-2018:
---
---