Fellow:Pathivada Rajesh
Jump to navigation
Jump to search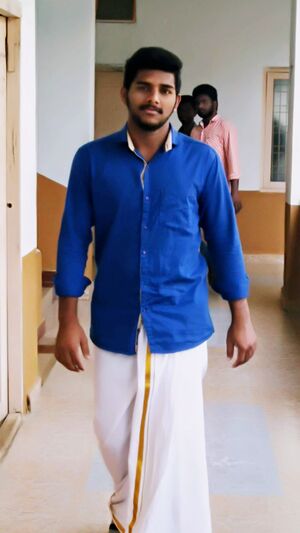 PATHIVADA RAJESH  was born on 11th October 2000 in parvathipuram ,India. He is pursuing bachelor degree in the stream of computer science engineering of 2nd year in one of the well known institutions,ADITYA INSTITUTE OF TECHNOLOGY AND MANAGEMENT IN TEKKALI, SRIKAKULAM.  He completed his schooling in his home town parvathipuram in R.C.M  St. Peter's e.m high school and senior secondary education in the sasi junior college which is located in West godavari district. His mental dimensions and great changes of his personality took place in intermediate and he always shows gratitude towards that institution. Mostly  he always tries to improve his imagination power in each and every work. He is valorous in nature and speaks straightforward in any situation .  He shows much interest in learning new things and One of the best qualities he possess is  positive towards others and simply called as optimist. Currently with all his  qualities he became a member in Student Activity Center (SAC) and day by day trying to hone his skills in entrepreneurship,  technically and non- technically under the guidance of well versed faculty. He bagged couple of medals in martial arts like karate and boxing.He completed courses in  nptel, digital marketing And  currently working on the web development. His principles" BE INDEPENDENT , PRODUCTIVE , MENTALITY AND PHYSICALLY FIT."
HOBBIES & INTERESTS:
He loves to listen and sing songs .

He mostly spends his leisure time In drawing pictures,making handcrafts and he strongly believes that these enhances his creativity and visualisation.

He is very much  interested in reading books.

He is very curious to solve puzzles and knowing about mysteries. 
GOALS: he wants to become a successful entrepreneur so that he may be  one of the people who helped our country in economic growth
---
---