Fellow:Padmanabha Reddy Hemasri
Jump to navigation
Jump to search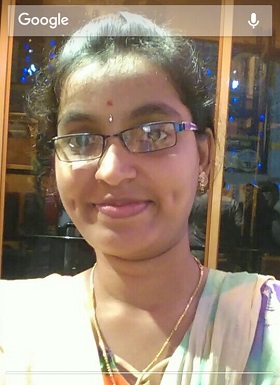 Padmanabha Reddy Hemasri is a junior student at ANNAMACHARYA INSTITUTE OF TECHNOLOGY AND SCIENCES. She is currently pursuing her bachelor degree in Electronics and Communication Engineering. Hemasri peers calls her as 'Sharmi'. She is currently living in Tirupathi town which is located in AndhraPradesh which is one of the states of most known country INDIA. She is good in dancing and singing. She is fond of films and to act in short films. She likes to enjoy the lyrics of songs.
Hemasri is a very good starter, she has more speaking skills. She is a self-motivator and helps others in their needs. She always keeps others and herself in happy and joyful mood. She loves her smile and she feels that her dimples were Gods gift to her. Hemasri likes long journey along with family members and also she likes to visit new places, new people. As she came from a orthodox family she loves to be traditional. At present she is doing a project on Antennas.From the University Innovation Fellows Program she hopes to develop, improve upon and spread skills in innovation and entrepreneurship. It will provide her an exceptional network opportunity for her.
Other interests:She is fond of chicken specials and also South Indian food items. She is passionate about solving real world problems. Finally she feels proud to be an INDIAN.
Related Links
Fellows:
Padmanabha_Reddy_Hemasri
---
---