Fellow:Noah Foster
Jump to navigation
Jump to search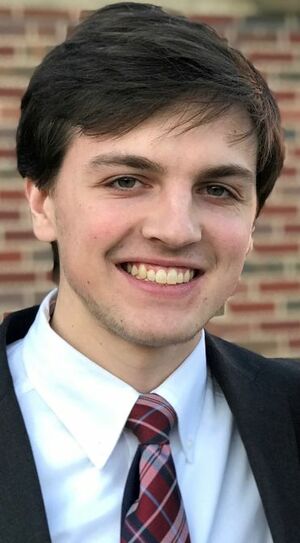 Noah Foster is a undergraduate University Innovation Fellow at Wichita State University, and he is from Edmond, Oklahoma. He is currently a sophomore studying Computer Science Engineering and looking into mixing that with music production. Noah has has over eight years of Percussion experience as a musician, so he has been inspired by music over those years. This is why he wants to merge his Computer Science with music. He would like to have a good knowledge in programming and software as well as the ability to have an impact in music.
In his times at Wichita State, Noah is involved in various organizations and opportunities. He is an Ambassador for the Honors College, a member of FarmHouse Fraternity, and now he plays marching snare drum for the Shocker Sound Machine, a marching extension to the current Shocker Sound. Noah was also able to participate in an innovation competition in his first-year seminar class where they advanced to the final round with the product LyfeLock. In the final round, LyfeLock was awarded People's Choice for their project.
Noah joined UIF for the noticeable change it has, and he wants to expand his innovation broader on campus that is surely available with the worldwide aspect of UIF. He wants to better the lives of those who join campus as well as the ones already on it.
While in UIF, Noah is working on the project of Shocker Scooters. This aims to help mobilize students on campus, and it wants to save time and gas on campus. Wichita State's expanding campus makes it increasingly more difficult to reach various sides efficiently without a car because there are no other options than bringing your own transportation on campus. So, making it a campus initiative would benefit the entire student and faculty body. This helps his ideas and passion flow through this helpful idea, and it helps him be inspirational to campus.
Related Links
Wichita State University
Wichita State University Student Priorities
Spring 2018 Fellows
Spring 2017 Fellows
Spring 2016 Fellows
Fall 2015 Fellows
---
---